I already have my first experiences by 3d printing for others.
If you need to print something, you can contact me on the menu page "3D printing service Barcelona".
The first request was jewelry printing. Already served.
Marisol makes her own designs with Autocad. And it seems she has some success around her family and friends.
In fact the pieces gave me  hard time, because they were objects of 2 mm height maximum, with relief and plenty of jumps.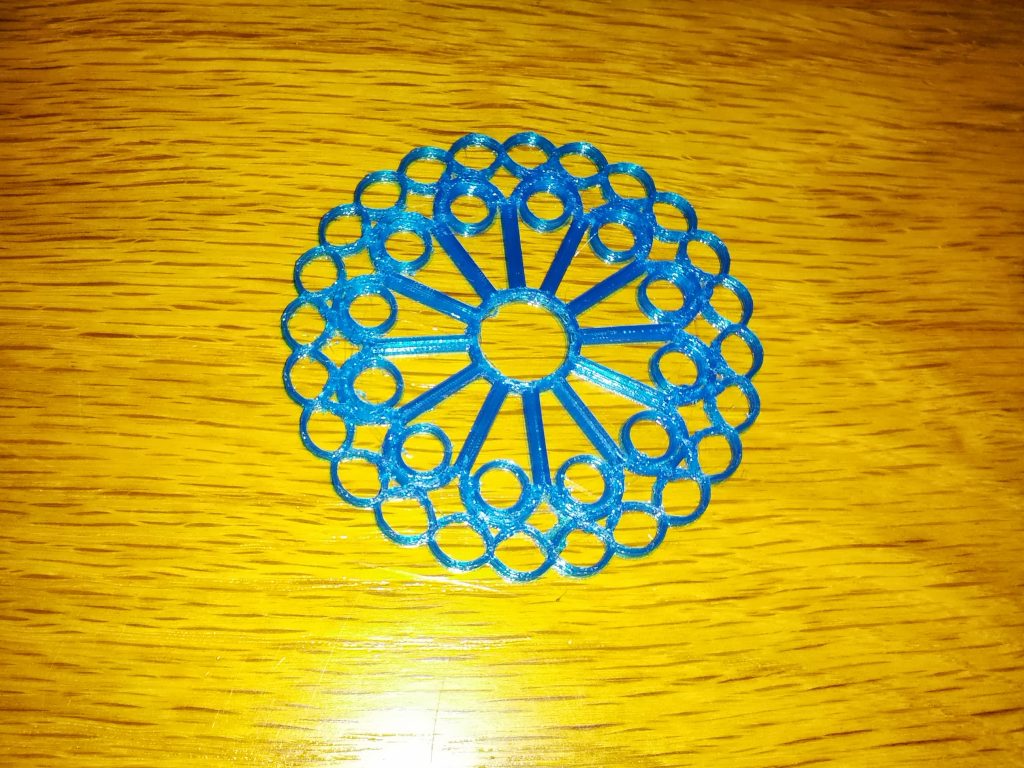 The first prints in PLA had plenty of threads and I had to play with the retract setup to reduce the effect of leaking plastic from the hotend while he moves from one side to the other. There are several parameters related to retract, one of them is the distance that the extruder has to make the plastic move when travelling,a nd of course the speed of the travel.
I also made ABS printings, to check the difference.
First tests in PLA. If you look at original size you can see the threads.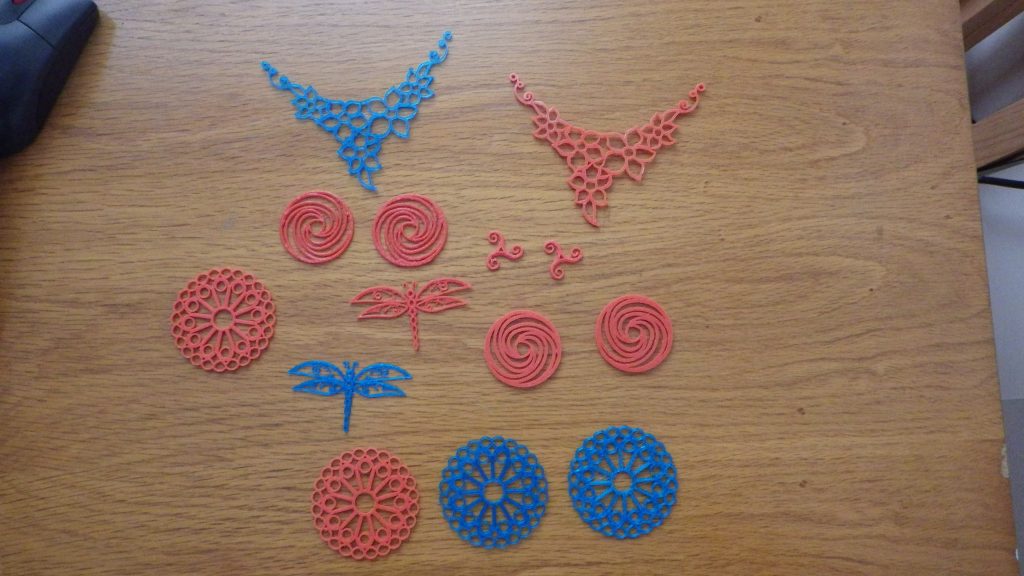 Here the whole pack that I printed.
This was the only delivery that I made. And I have three additional requests ongoing.
Truth is, none of them is just print and go. all requests are very thin, in the limit or over it.
the pole to hold the catenary on train miniatures. I am working on it, I printed in ABS but it is too thin and when I checked its strength it just broke in my hands. Then I tried with PLA, known to b stronger than ABS. But it seems still fragile for the forces it needs to hold coming from the catenary. They respect sizes at perfection and electricity has to go through the catenary, and no way to change the 3d model. As Miquel came to our printer party I gave him the two tests for free so he could check this out with his father, the real pro on miniatures. But we both left convinced that it was not going to work.
a copy of Assassins' Creed Hidden Blade. Amazing!! the person who asked me is currently working out the 3d model. There are more than 10 pieces to assemble and the whole thing i very thin so I expect hard work again. Nut well, when he finishes the design of any piece we can try. The good thing. He plans to share the model in Thingiverse once finished.
an objected with nested elements. The mesh had some sphere nodes net in spherical form, and two spheres around with holes on it. First problem was that the walls were not solid (width = 0) and the second is that the pieces were floating so you need supports and see what happens. I will not be bored!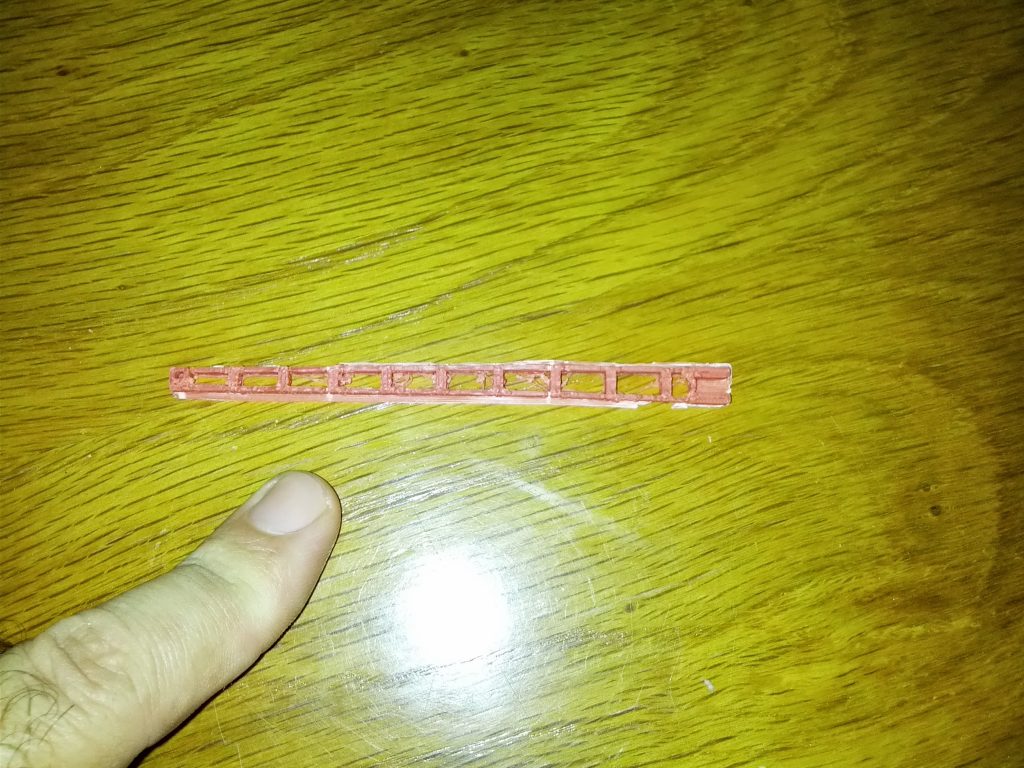 The catenary pole, in ABS
I will keep doing tests.
But if I don't receive easier models, like a GoPro support that is upload and print -a no brainer-, this short experience let's me validate what RepRapBCN people already told me: the price people are willing to accept does not compensate the hours you have to put in there. You have to count the full management of a request: manage the contact, verify the model, generate gcode, heat the printer and print, deliver. You cannot make a living with this. However, there are bets for this model such as 3dhubs.com and makexyz.com. e should see how this evolves.
In these websites that want to build hubs of printers the prices go to the minimum that the website has established, around $0.25 a 0.50/cm3. No business. My understanding is that there are currently several printers with excess of capacity and the owners want to get some cash to reduce their investment…but too much offer for little demand. In fact in Barcelona there is even no offer, and the demand probably does not know where to go.
I believe there is no business model, only to get a bit of extra cash. In fact i think 3d printing is not generating value added. It will end up as the photocopy shops in the past, when only price counted as any other commodity.
And then, where is the valuer? but it's still not clear. Private printing is still too young. For now the business is to sell printers. New models appear.
You also have groups like shapeways growing 100% every six months or i.materialise. Both do research on new materials and so are providing value to the customer. Customer is willing to pay more for jewels & decoration, especially if you have materials such as metal, silver and gold.
And for now the sector is growing 25% yearly, so these ones will continue growing.
Where I see a value proposition is in CAD design. When we flood the market with 3d printers, if it ever happens, someone will have to feed them with 3d models to print.
Another business model. There are few websites that want to put in contact designers with clients, and meanwhile facilitate 3d printing so that they close the full cycle.
Also thinking about collaboration with designers (Etsy version for 3d) Shapeways let designers create their own shop in their website and their business is focused on printing, with a low commission to the designer.
We are just at the beginning. Many ideas will be tried, some of them will succeed and other swill fail. Let's see what happens!