Our group 3dprintbarcelona.org is organizing a 3D Printing on Saturday, October 24th. The Barcelona Printer Party.
¡¡It will be huge!!
Although I show up as the founder of the group, since I got involved as co-founder of the LynxCross gym this year I do not spend much of my spare time to 3D Printing, and so I am less up to date on what's going on, and of course less active.
Fortunately the group counts with highly motivate people and we are making it through. It is a big organizational challenge for a group fully free and based on voluntary collaboration and lots of goodwill. In addition some members are over the acceptable geeky level…and I mean acceptable for already geek people 😛
We are making something huge. You can find the full program in our site (in Spanish).
In our group we usually do events every other week, with simple logistics. The Ateneu has already all the media and equipment we need, if it's a talk the presenter brings his latptop in, we connect to the beamer and done.
But this is the event of the year. We made a similar one more than two years ago, at that time we called it "Primera quedada con impresoras 3d", (I translated as "3D Printer Party" in my two languages blog) because we are not much creative haha. And for this year we have not improved in creativity and we adopted the term that people are used for this type of event. In fact we did not even spend time discussing the name, people in the group started calling it Printer Party and it stayed like this.
We've been about a month and a half working in preparation, with in person meetings every week to speed up organization. Online collaboration is really nice, but we speed up in person, provided there is a moderator to keep focus, usually my role 🙁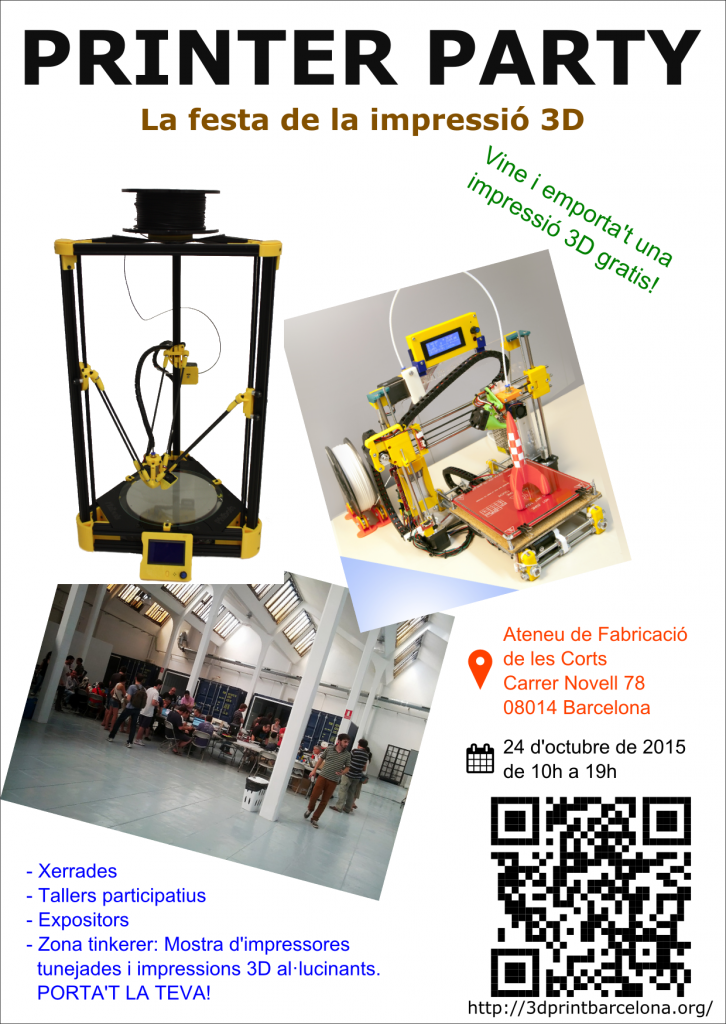 If you do not know about 3D Printing
you will like it. You will see shops and business stands form Barcelona and whereabouts, you will have Introduction talks where you can ask all the things you want to know, that we missed to explain already: which 3dprinter I buy, how much it costs, which materials can be used, …and some workshops where oyu can learn the process completely, from modelling to get the real printed object in your hands.
If you have kids
it's time to make them familiar with the new technologies. I recommend that you bring them in, we will do jumping frog races, we will show them to make a keychain with their own initial, there will be workshops about TinkerPlay and TinkerCAD, two very intuitive tools for 3D objects design.
If you are really interested into making your kids familiar with technology, I recommend to attend the event from our friends Vailets Hacklab on Saturday 17th: the Vailets Hacklab Day. We are specialized in 3D Printing, and Vailets covers all type of digital technology such as robots, programming, arduino, etc…
If you are part of 3D Printing
You should not miss the tinkerer/maker zone with the best inventions from hobbyists. See by yourself how we can tune and customize a 3D printer. And if you have something to show join us here
Maybe you are interested in the Rhino masterclass, or see how fast we can model simple objects with TinkerCAD.
¡¡Visit us!!
You can RSVP here