This weekend we finally had the first 3d printer party.
As always, through the 3d Print Barcelona meetup group where I am the organizer.
We had around 90 people that did RSVP in total, but I had the feeling that not all of them came. I also have to mention that the fact that it was taking a day and a half generated some dilution of people, and I did not spend a second counting people. Many new faces, in fact.
We were hosted in the Ateneu de Fabricació, public space lended to us while we organize activities that revert back to the city, either by spreading technology, or by generating projects that revert back, etc.
The premise is awesome: wide, illuminated, full of possibilities. And there will be 3d equipment 🙂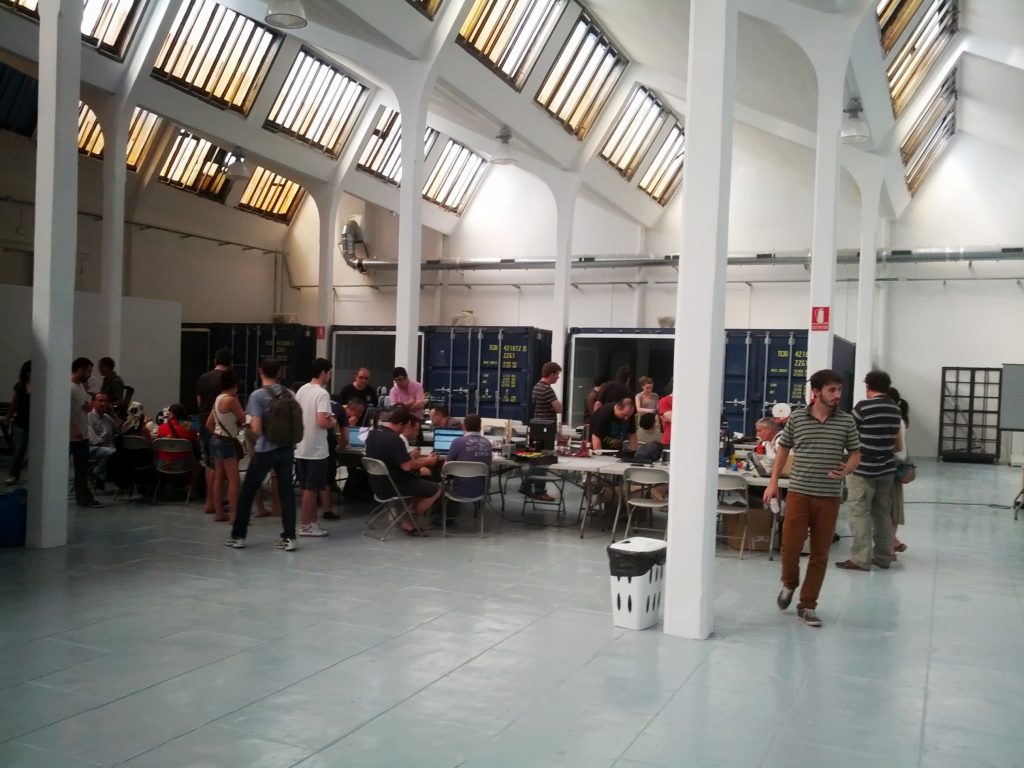 Friday afternoon
On Friday we met around 15 printers. There were BCN3D, Prusa i2, Prusa i3 and the famous Gofre 3d from Luis Rodriguez.
First part of the afternoon was dedicated to setup our printers, organize ourselves, etc and attend the curious visitors that came to see the printers working. In my case, I was walking around speaking to everyone. I start to have problems to distinguish what I have been talking about with each one and the worst, I am bad with names! so if I don't remember your name it's not personal…sorry!! I have to interact several times with someone to be able to fix his name in my memory… 🙁
In addition, we are already 200 in the group. Growing fast!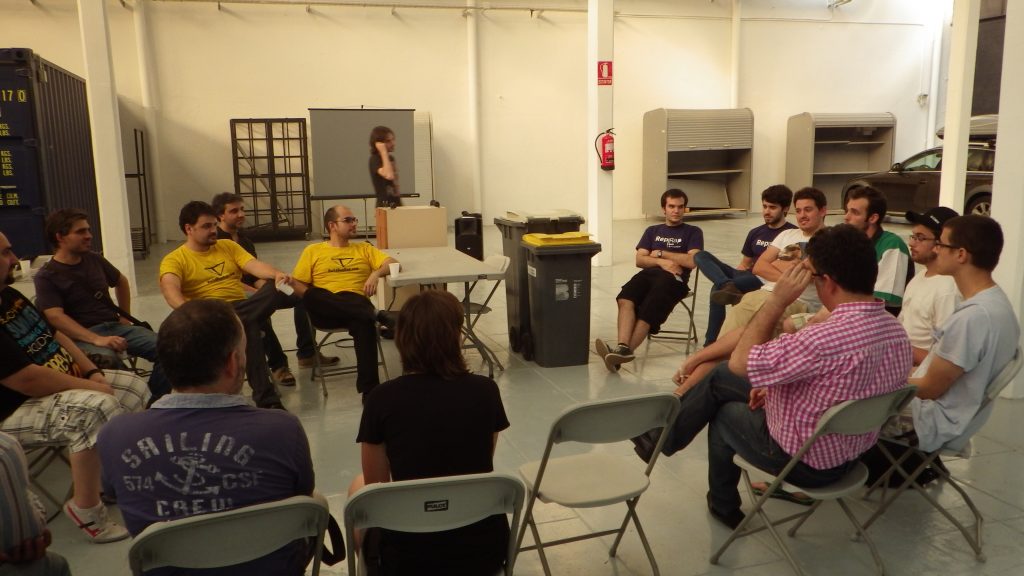 Around 7pm,when atmosphere was more quiet and only geeks were still there we had a little round table. The topic was wide. What do we do with 3d printers, how do we see the future in 5 years, what will people be using the printers for, wil there be a printer in every home, business models, well, we spent more than 1h enjoying our discussions.
And I think this was one of the activities most appreciated. Took note for next time!
By the way, at 4pm it was so hot…still some things to polish in the Ateneu, and one of them is the air conditioning.
Saturday was more quiet, unexpected for me. I guess people were going to the beach or it was more difficult for them to convince their wife to let them go, who knows 😉
Luis presentation, and the printing of "Ateneu les Corts" in chocolate.
We had two presentations, food printing from Luis Rodriguez where he showed us in real time how he was printing 3d texts in chocolate and he presented his personal project to us. The different versions to improve the peristaltic pump (it makes the food go up through the extruder and the syringe). He was working on version 0.49 if I am not mistaken. What a passion! and he also explained the different food materials tested.
Very instructive and interesting, by touching a different topic.
Then we made a classic one. Albert Campos presented Introduction to 3d Printing. A presentation that he did already in May in our group (Thanks Albert!) but I think it has to be there regularly as one of our group objectives is to spread the technology and what you can do with it. And let's be realistic, there is a big portion of the 200 members of the group that do not have a printer. Some of them have the intention, others just start to show interest in the topic, looking to understand if this could be useful for their job or hobby. And here we have graphical designers, industrial designers, architects, makers, etc.., even gamers and miniature passionate. Very assorted!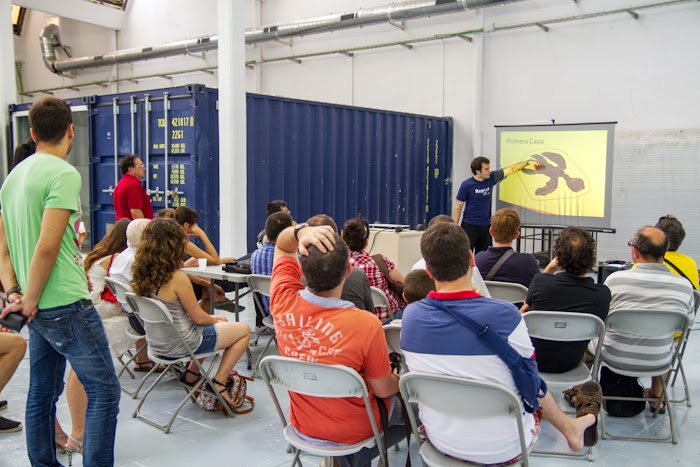 The next talk was done by Albert again. This time about materials.  In addition to the typical PLA & ABS he also explained Nylon, LayWood and LayBrick.
I already bought a sample of the two last ones to test. Wood texture should be cool 🙂
After that we went out for lunch, just because it was quiet. That was good because we grouped with people from Clone Wars that also came. They had a vision more focused on the engineering aspects of printers (i am clearly biased to software). For those that do not know Clone Wars is "The Community" in Spain for home 3d printing. If you want to build your own printer this is the place to go given the amount of information that you can find and the support that they provide, especially for RepRap Prusa i2 and i3.
Printers BCN3D, Prusa i2 and Prusa i3
Below, David & Mark with their project: Noom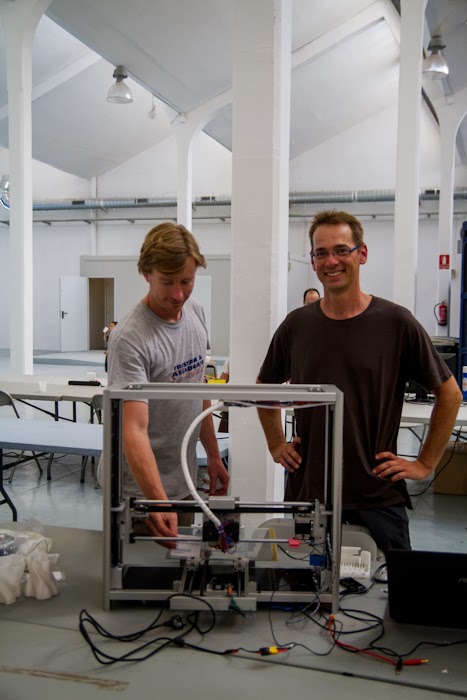 And the afternoon was more quiet still with some visits and chatting between us.
We left the place just asking ourselves when the next event was going to take place. We'll see.
October or November sounds like a good time. For now we are working on lessons learned.
And starting on September we will meet in the Ateneu every other week. I will post the events in the meetup group.
If you want some pictures there are several here.