This week Tresdenou delivered tome a BCN3D Sigma R17 3D printer.
I was looking for a Dual Extruder and that it was quite plug'n'play for once 😉
And my choice was between this one and the one from Ultimaker. I went for BCN3D being cheaper and local.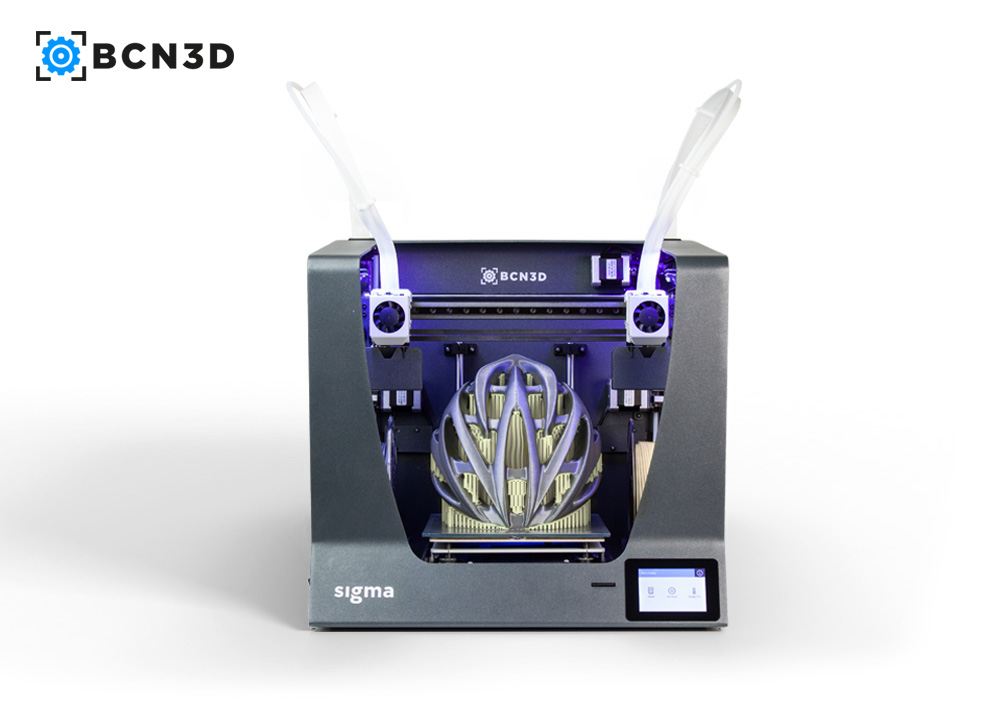 The first experiences this week are very positive, still few things could improve.
The packaging shows a good deal of thought behind, interface is simple and there are plenty of improvements compared to my BCN3D original 4 years old already.
As you start an assistant kicks in that lets you load filament and calibrate heated bed and the extruders. Very simple and effective.
And then you make it work as usual with a SD card.
The software seemed to me a bit basic because it is a customized version of Cura for BCN3D and it is not updated. So I am missing some functionality for example the support options are limited. There is also the option to use Simplify3D but I haven't tried yet.
With the software you also get profiles for different materials and quality by default which makes things easier.
The same night I unboxed I was already printing, after doing the setup process 🙂
With BCN3D I have a problem that I need to sort out. It doesn't print with exact size on Z axis. Since I had to change the electronics a couple of months ago, I don't have a clue of the reason behind…and I think it was happening already before that. The fact is that for 3D printing services that require exact measurements I was not in a condition to provide them, wile for figurines and other objects without precision there was no issue at all as we speak of a difference of 1 mm over 150 mm total height.
And now with the Sigma I just got a couple of requests packed in this week about parts for 3D printer kits. Waiting for the feedback 😉
While I am writing this I am 3D printing a Draudi in two colors, a must!!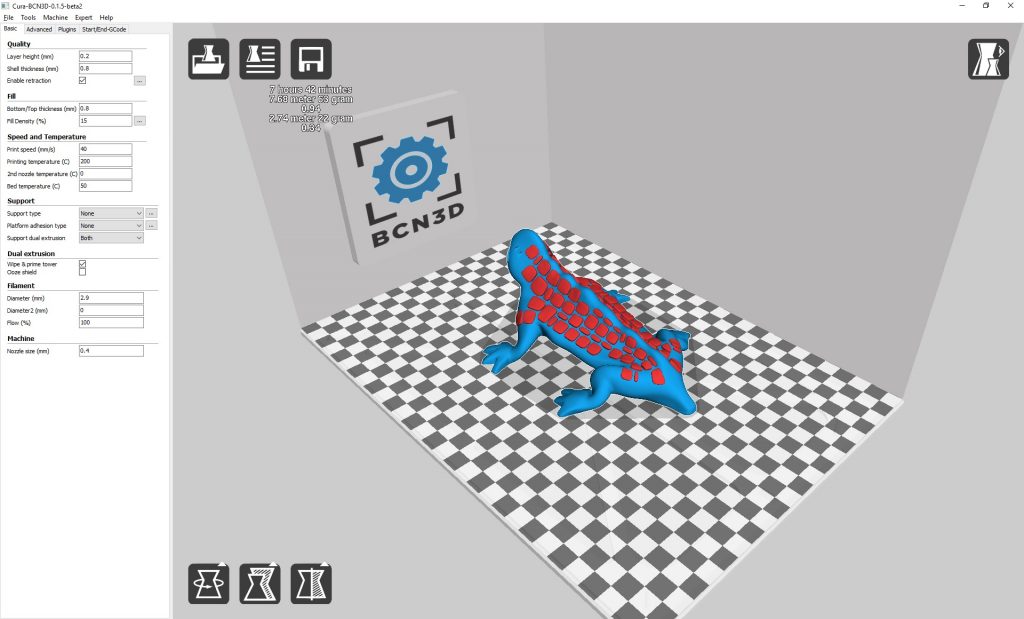 Cura customized version for BCN3D
The progress up to now:
From this four days here is what I liked more and what I liked less:
More
Initial experience. The packaging is well thought, with documentation, tools and first steps properly guided.
The 3D printer management is simple with clear menus, and the usual functions maximum two clicks away. Filament change and calibration are walked through and easy to perform. The slicer piece could be simplified a bit more, but they already provide default profiles and their website has a profile generator that makes its use even easier. However, I think Cura shows too many options if it is for a newbie that only wants to always get good 3D prints and that's all.
Dual independent extruder. It looks pretty good and has plenty of potential. After the Draudi in two colors, PVA supports is the next thing to try 😀
Quite silent, as fara as I heard it is an important improvement to the previous Sigma version.
Amazing jump compared to my first 3D printer, the BCN3D, from the same company called RepRapBCN at that time.
Less
The interface is simple but the trade-off is that it is also limited. For instance if you have a problem in filament load process you cannot stop it. It happened to me that I started the setup again since I did not complete it in the first round and I messed up (user fault :P). The filament load started when I already had filament loaded and I could not stop it, unless I switched off the machine. The outcome was that the motor kept pushing filament as in normal procedure and made a dent to the filament while it was blocked in the end. Then it could not push anymore. I had to find a way to push the filament a bit more so it got grip again. It also happened to me that when the filament is not caught at first try it pushes following the procedure but may get only to half the bowden tube. Then, following the next procedure step of fine tuning load you have to keep pushing the button many times at low speed until you get it loaded properly, caught in a process that was thought for the last mm probably.
I understand it has bowden because there is enough complexity in X axis with the IDEX system, but it does not seem to me that it get the speed advantage that a lighter carry would bring. Like in Delta printers for example. For now I 3d printed properly at 100 mm/s.
LEDs are nice, but I am afraid there is no way to switch them off. If oyu leave the printer working at night, you know the drill…
Several disclaimers
Although I know BCN3D Technologies and its CEO Roger, I have no relationship with them. I bought this printer because I think this is a good machine among Dual Extruders.
In fact I bought it at Tresdenou, a shop in Poble Nou (Barcelona) managed by Rafa and César. They are members of the 3D Print Barcelona group for three years I guess, but less involved lately since they have to cover the commercial schedule and we meet just at the other side of Barcelona.
Good people, always willing to help, and I did not doubt for a second buying from them since I know I would have excellent local support if I need it. ¡¡Very recommended!!
I bet for local. You know, if you buy from China you better be independent to repair all the issues that the machine may bring at the beginning, or those that you can make afterwards.
This post is not in any case a review of the machine, simply my first impression as advanced user. I do not perform thorough reviews and I do not have intention to perform them. For this you have several youtubers that have already published.