I have a Fitbit Aria scale for some years now, and it started to have issues. The main one is that it was draining the batteries in few days. The problem was caused by some broken plastic parts, not available as spare parts, but thanks to 3D printing I avoided throwing it away for good.
The problem with Fitbit Aria
The scale is of the smart type, it connects through Wifi to the Fitbit profile and tracks weight and fat percentage. For this, it has a plastic part inside in each of the four feet where sensors are embedded. These parts can flex a bit under weight, but eventually may break with use since they're made out of plastic.
Browsing in the Web there was a lot of angry users because the failure shows up after a couple of years, when there is no warranty coverage. People were confused trying to identify the issue since Fitbit was not doing any public acknowledgement that the scale had this design problem. Some people were thinking it was due to the last upgrade, others that it was caused by a floor not perfectly flat, others something internal, etc. The issue was that after using the scale, it was not coming back to stand-by mode because it was still sensing some weight, due to the broken plastic part. The part has a shape that would make it act a bit like a spring, but when broken this does not happen anymore.
Fitbit doesn't take responsibility, does not give any kind of solutions, not eve discounts to buy the new model, the Fitbit Aria 2. And lots of angry people who do not know how to sort it out…
But it has a solution with a bit of DIY. Here is the video explaining how to disassemble the scale without damaging anything. Use wood sticks if you can, I used screwdrivers and scrapped some bits of paint that cover the glass part.
The solution
Luckily, with so many people, there is always someone who finds the solution. It's just about replacing those broken parts. There are no replacements parts so if you don't manage to repair it, it's more than a hundred euros down the toilet. Some people glued the broken parts, praying that they endure. And others like me, more privileged for having access to a 3D printer (better said many :D), we just 3D printed the parts.
I am thankful that the model was already modeled and shared by Kizinfo in Thingiverse as Fitbit Aria Scale Foot. Otherwise I would have had to work a while with Fusion 360 to replicate it 😀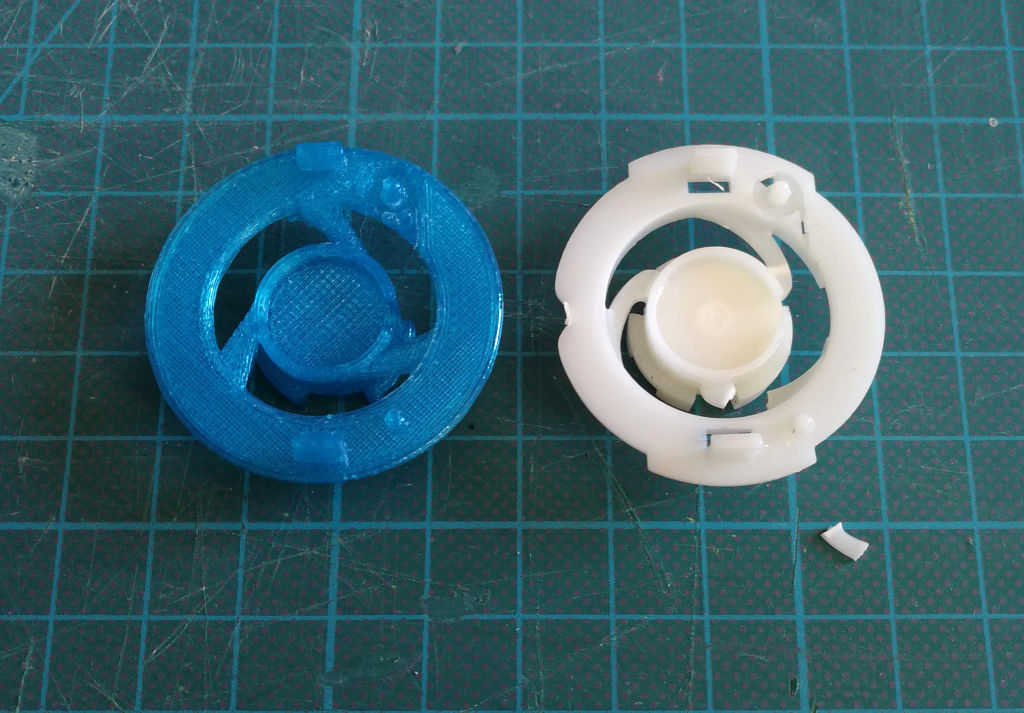 The 3D printed part and the broken part.
I did it the quick way, 3D printed in PLA with the BCN3D. The Sigma, my favorite 3D printer, is right now going through the upgrade process from R17 to R19.  I will publish later about the improvements.
It's not clear to me if the part will hold for long, even the original plastic part looks fragile. And when I 3D printed I set a relatively low infill (in fact the infill setting would only affect the central cylinder, the rest would be solid anyway because it's thin and with the setting of wall thickness and top and bottom layers it makes it solid anyway). But if you are a 3D printing user you know, when it breaks I print it again and done.
It needs supports, clearly, and with the default settings I have in Cura it worked well and the supports were easy to trim (infill 20%, layer height 0.2mm, speed 40 mm/s).
The assembly is a bit delicate because a small spring and a sensor are mounted with the part, and it then has to be inserted upside down. In fact when disassembling I broke one of the cables without even noticing, and had to solder it back.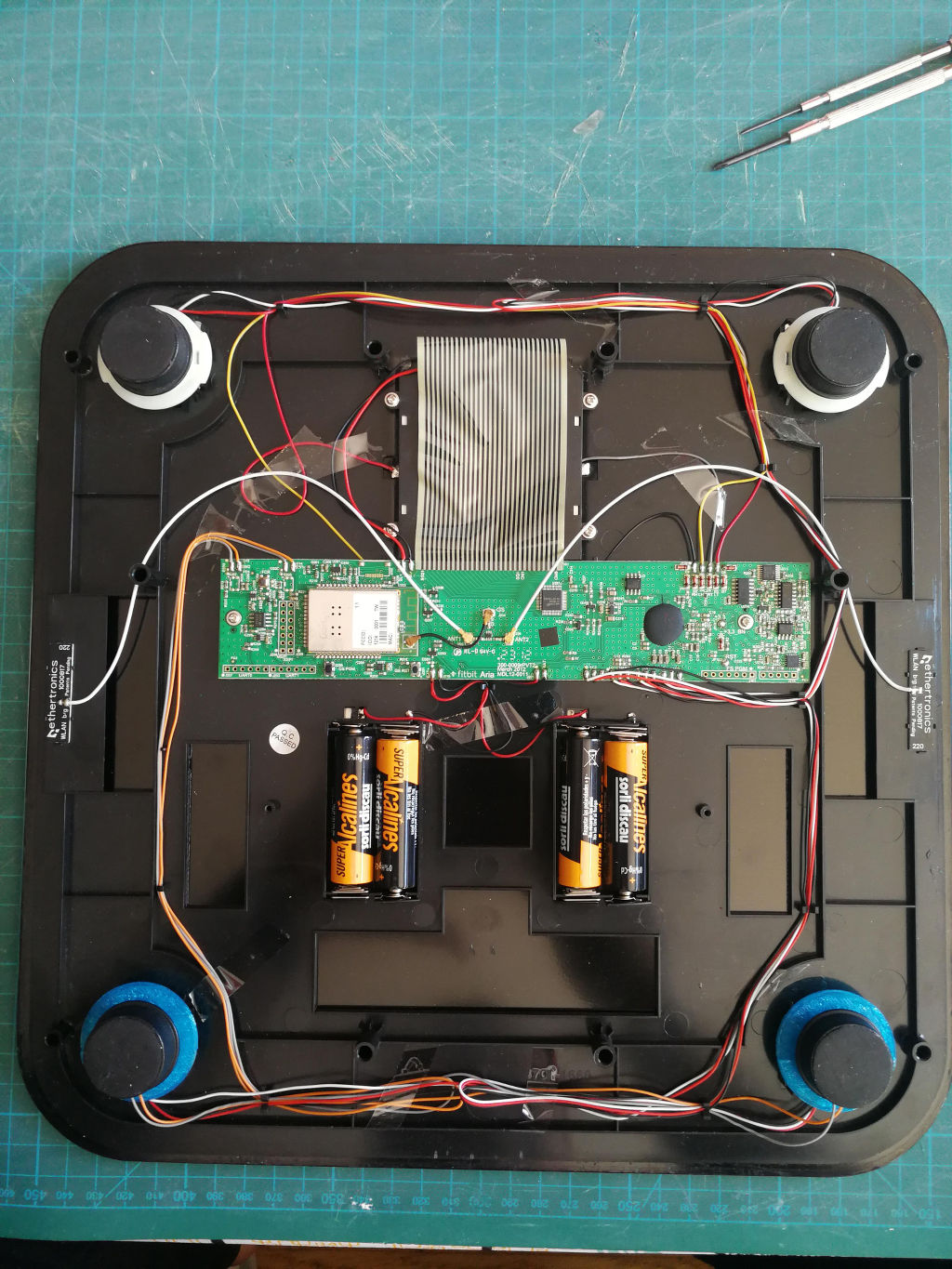 Fitbit Aria scale opened with the 3D printed replacement parts
And it works perfectly 🙂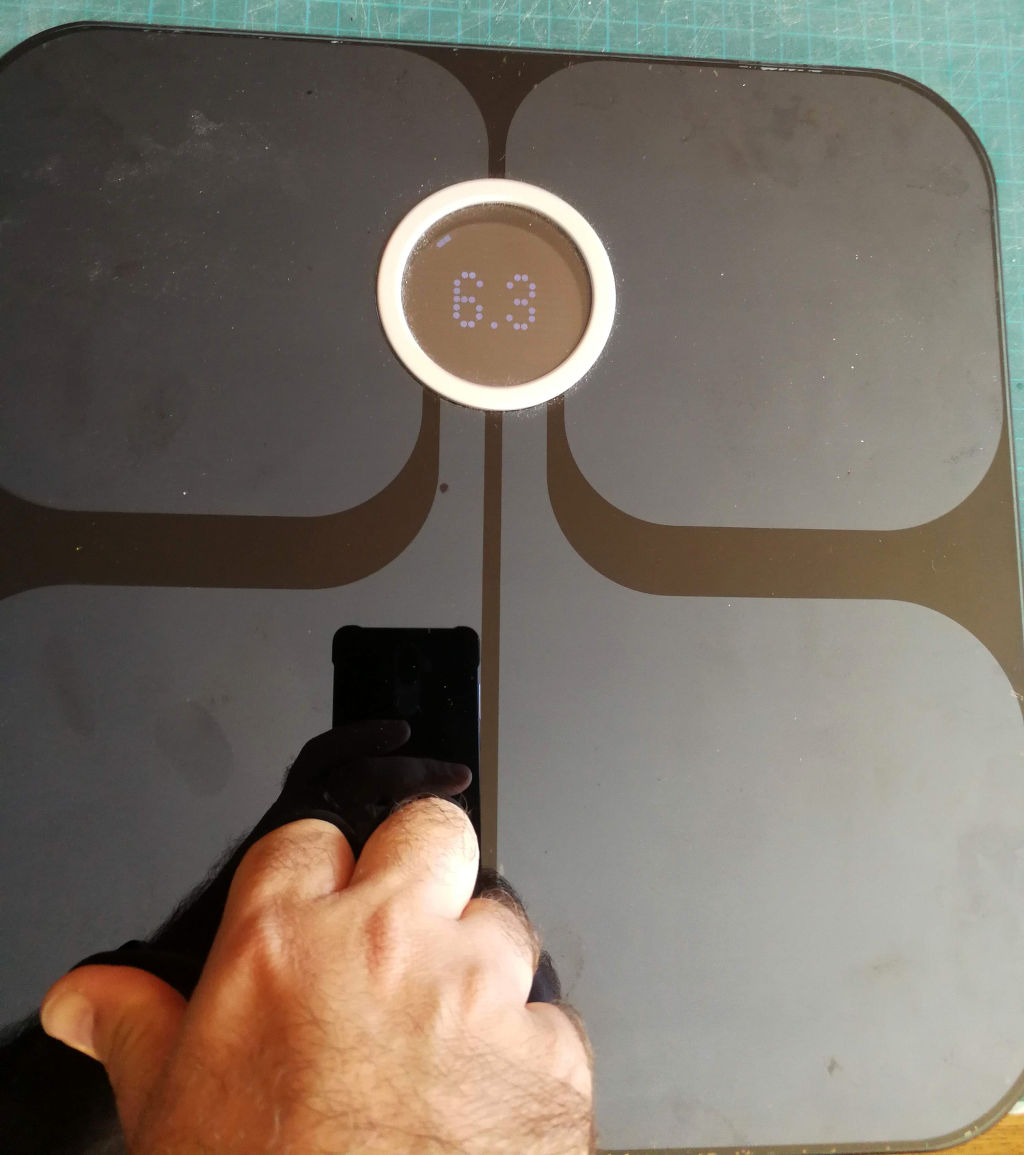 Fitbit Aria repaired
Conclusion
Something more repaired at home. I was already saying in an older post that I love the use case of 3D printing for repair ore reuse. And here I applied it again 🙂
I need to see how it holds with use, but knowing that the 3D model is valid, it's just a question of looking for another material and printing settings to make it more robust, or maybe more flexible to avoid breaking like with PETG.