Autodesk Fusion 360 provides several free licenses in addition to the commercial one. In this article we explore all options and differences between them and how to download and renew your license.
As the license policy changes over time, I will be updating this information. You have review date below.
Updated on September 20th, 2022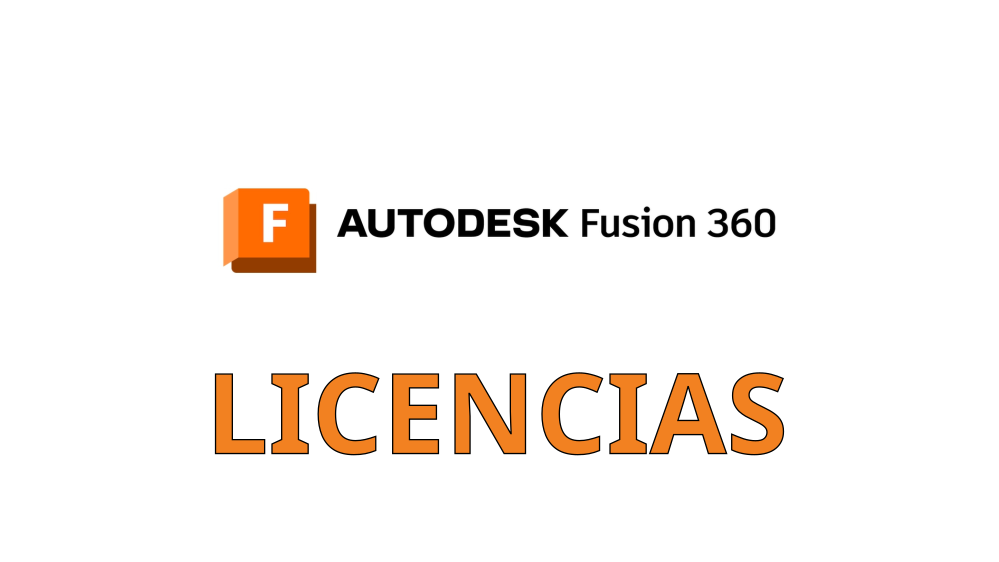 There has been quite a mess on the Internet with the information from youtubers and others provided in terms of recommendations of which license to use. Particularly when the intent is to use Fusion 360 for free. Let's get into details.
Fusion 360 license types
At article update date, the available licenses are as follows:
Free Trial: the first 30 days until you choose the final license. You have all features during this period.
Commercial: if you perform a commercial activity that does not fall into the Startup category.
Startup: for startups, firms with less than three years that have less than 100 000 $ yearly income and less than 10 employees. They use Fusion 360 as a tool to develop their own physical product and are available to share their story with the Autodesk community. Not considered here consultancy and engineering services for third parties. More details on requirements are available at this link Startup license.
Personal Use: it's the option for hobby use. You can make up to 1000 $ yearly income from your hobby activity. It's also valid to make YouTube videos, blogs and other web content. More details following this link Personal Use license.
Education: for educational use either by teachers and students. This license was recommended for years in the Maker community (I never recommended this one because it didn't make sense since there was a hobby license). As a consequence, now there is a form to submit and documentation required. More details about this license following this link Education license.
License differences
In the table below we include only the differences between licenses, for the rest of features consider that they are available for all of them.
Concept
Commercial
Startup
Personal Use
Education
Renewal
1 year
1 year
1 year
1 year
Grant process
Payment
Form
Free
Form
Storage
Unlimimted
Unlimited
10 active documentos that you can edit, unlimited inactive docs
Unlimited
Generative Design
Yes
Yes
No
Only if your email account belongs to an education institution.
Render
Using cloud credits or local
Using cloud credits or local
Only local
Free up to a number of credits or local
Import CAD formats (SolidWorks, Inventor, Catia, etc)
Yes
Yes
No, only STEP and IGES
Yes
Export CAD formats
Yes
Yes
No, only STEP and Inventor,
DXF only from sketch
Yes
CAM – Manufacturing
Yes
Yes
Max 3 axis, no tool change, no rapid moves
Yes
2D Drawing
Yes
Yes
one sheet, no printing (you can use a PDF printer)
Yes
Simulations
Using Cloud Credits
Using Cloud Credits
No
Free up to a limit of credits
Access to Paid Extensions (mainly CAM)
Yes
Yes
No
Yes
Electronics
Yes
Yes
2 schematics sheets, 2 layers, max 80cm2 board
Yes
You have full details of the big license change in 2020 in this Knowledge Network article.
Note1: since September 2022 simulations cannot be run locally. All of them have cloud credit costs except for Linear Static.
Note2: the former Education license has no automatic renewal after three years. There is a manual process to renew using the Personal license with the same account. For entitled students and teachers I don't know the renewal process but I think it requires documentation. Check this form.
Which license to use
It depends on your needs and intended use. If you use the tool for professional services you logically should use the commercial license, unless your company can fit in Startup requirements (there is a form to fill in and Autodesk validates the request).
If it is not commercial use and you look for a free license, the only option is Personal Use. Unless you are a teacher or a student, then you have Education which is more comprehensive.
In my case, I use a commercial license that I purchased during the October 2019 license changes, benefiting from a campaign offering discount for life. My case is clear because I was providing 3D modeling services and I also receive CAD format files to 3D print, in addition to the Fusion 360 online courses I provide. In addition I use Fusion 360 to design customized objects and program my CNC router to fulfill woodwork requests that we get through Artecitos online shop.
How to download Fusion 360
In Spain it's a bit tricky because if you go to the Spanish page it only shows the commercial version. The easiest way is to search in google for "fusion 360 personal" and the first result will bring you to the page where you choose the license you want. It's this download page anyway, but if for any reason the page changes remember to use the search to find the new one.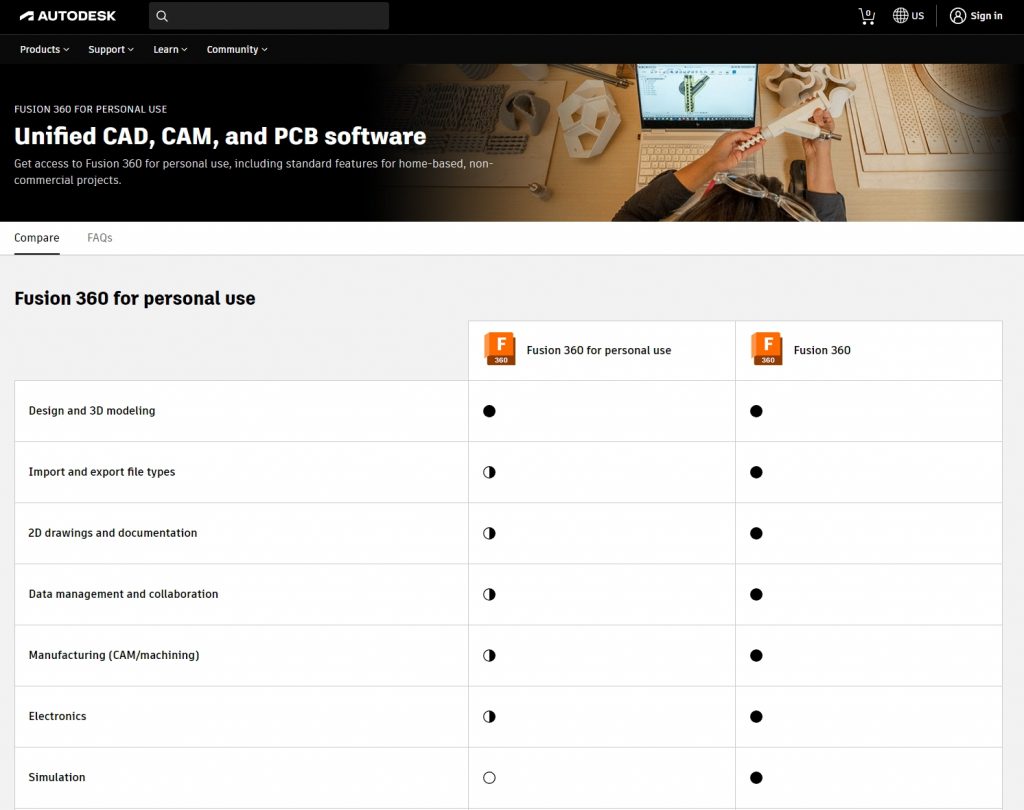 Once you click on the license you want, it's just a question of signing up with an email and follow the usual sign-up steps. After that software will download. Have in mind it is only available for Windows and Mac.
I made a video explaining the process in Spanish
How to renew the Education or Personal licenses
Important: if you have an Education license you will have to switch to a Personal/Hobby license, unless you can prove that you are a teacher or student.
There are few simple steps to take in order to renew to Personal. These are the same for those renewing their Personal license annually:
Close your Fusion 360 session.
Go to the Personal license download page.
Login with your Fusion 360 account.
Click on Get Started at the end of the page until download starts.
Wait for some minutes, half an hour is recommended.
Open Fusion 360 again and login.
I made an explanation in a short video in Spanish in case this fits you.
Disclaimers
I have no link at all with Autodesk and I do not have privileged information from them. The opinions provided here are only mine and based on the information that Autodesk has communicated or what we could check the app is effectively doing thanks to my students.
On the other hand, I wrote the book "Fusion 360 con ejemplos y ejercicios prácticos", first book in Spanish about Fusion 360 published early in 2020 and this made me get into details with these license differences. I also provide in-person and online training courses and online and in-person private lessons about all areas of the tool.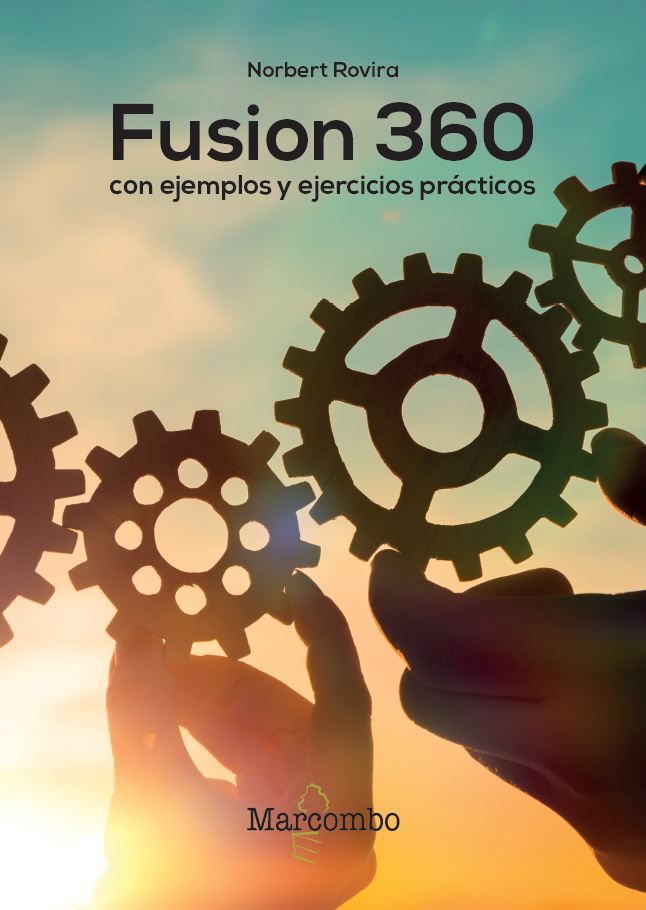 Fusion 360 online courses
If you are looking for a Fusion 360 online course in Spanish to start from scratch, or a more advanced one, I have several levels in my site.
Autodesk changes history
I am keeping track of the changes in chronological order.
I started with Fusion 360 in 2017 using startup/hobby license. At this moment it granted access to all features for hobby users and firms with income below 100 000$ per year.
Oct 2018 – Autodesk merges all commercial license types into a unique license at 500$ per year.
In this period Autodesk was permissive with education licenses and there were plenty of people that were signing in with this license type by choosing a random academic institution and with a personal email such as gmail or hotmail type. Made no sense because they also had the hobby license.
Oct 2019 – Autodesk modified free license types, splitting Startup/Hobby into Startup and Personal Use. This way the firms or individuals with income below 100k$ annual had to migrate to a commercial license, unless they could fit in Startup type with very concise criteria (see above). Personal Use had CAD formats limited. Generative Design is granted to all licenses.
Oct 2019 – Autodesk starts validating that the account email domain belongs to a school/university and if it's not the case restricts access to some functions, for example to Generative Design.
Jul 2020 – I got news that Autodesk was requesting documentation to Education licenses, giving 14 days to sort it out, so if you are not a teacher or a student forget about this license.
Oct 2020 – Autodesk applies significant restrictions to Personal Use license. You hace them in the comparative table above. Initially Autodesk was going to eliminate STEP export but they stepped back after the community reaction.
Feb 2021 – Autodesk applies 10 editable documents limit for Personal Use license. Documents can be editable or Read-Only and there is no limit in the number of Read-Only documents.
Since then Fusion 360 has switched to freemium model with three tiers: first tier with hobby license, second paid tier with commercial license, and a third new tier with paid extensions that add functionality on top of commercial license.
On commercial license, there are also new functions that are reserved just for this license and not available for hobbyists. For example mesh conversion with prismatic, arrange objects in a flat surface, edit in place components, etc.
Sep 2022 – Autodesk eliminates local calculation of simulations. All of them need to be computed in the cloud paying cloud credits (only Linear Static is free in the cloud)