I started with 3D printing in 2013.
Since then I went through a lot of repositories where you can upload and download 3D models to print.
Thingiverse, of course.
Then I tried others that no longer exist, such as Youmagine. I moved there in a rage reaction when the whole world burnt in social networks because Thingiverse had changed licenses and were granting some rights on the models to themselves.
Nobody will remember this, but it was a huge mess.
Later I tried Pinshape, bought later on bought by Formlabs.
Cults3d and others more.
Conclusion
That I was too lazy to move to Printables.
To Printables or any other.
And I've been waiting to see that it gets traction.
They also did a good thing when they changed the name and unlinked the platform from Prusa. Although it is obvious that they are behind, it is good because this is an open source project.
Because everything costs money in this life.
Maintaining the website and applying constant improvements also.
These repository sites bring no income (or low), so either the founder is fully committed with the community and doesn't care to spend money there, either it happens what Thingiverse did when Makerbot was bought by Stratasys.
They tried to add advertisement and shit like this, but as it didn't work it's sitting there abandonned.
In fact they went through a hardcore hack, and it went like shit for a while.
They'll shut up any day from now.
Platforms to sell designs
There are other platforms that are healthy businesess, like Cults3d or Myminifactory.
I tried Cults3d.
I even tried to put on sale a couple of models with a 1 € ridiculous price. Simple models that I show how to make them step by step in my channel.
Zero sales.
Now that they are free, downloads are growing.
(if you are earning cash by selling models I'm pretty interested to know about your experience in the comments below, or you can write me)
And I set them to free just to ensure coherence since they are also now in Printables. And everything is free there.
Why I like Printables
First thing is network effect
I have plenty of students that are already there, and also designers that I follow and I love what they do.
Second, because they took the best out there and improved upon it
I like the fact that we can make community with remixes, and that there is a clear license system.
And third, gamification is very well implemented
The whole system of points and badges as you reach milestones is amazing. I am already engaged there.
I haven't tried contests yet, but they look incredible.
What you will find in my profile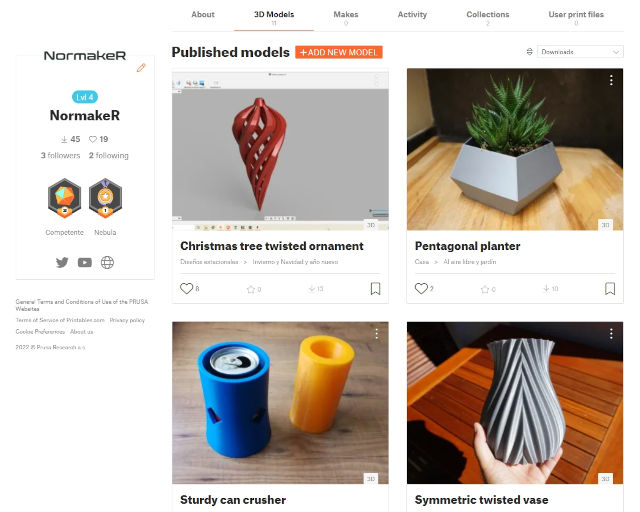 To start with, everything that I had in other networks. And I will progressively delete those netwroks.
And in addition I added models from some of my videos in YouTube. Some models that I did not share before because I think that my channel is to learn how to make things, not to go there and simply download stuff.
Remember also that there are models made in my channel that are restricted to students and newsletter subscribers. You will not find those in Printables, they are all available in a course in my website called "Modelos de YouTube". You will have access by being in my newsletter in Spanish (go to the Spanish page for this).
In any case, if you want to follow me it's here: NormakeR Printables account