Last Monday we had the second event of the meetup group 3D Print Barcelona. The topic: Introduction to 3D Printing.
After the first event it was clear to us that this topic was needed. Mainly because in our first meeting we noticed that 2/3 of the group did NOT have a 3D printer. Quite a few with intention to buy or build one, others just interested to know more.
40 people attended in MADE makerspace, hosted in the basement of MOB. Pure maker atmosphere 🙂
Thanks to MADE and to MOB for helping us in the organization, lending us some space for free, and the beers 😉
MADE is a collaborative organization that is creating a place in Barcelona where makers like us can go to hack and meet other makers. You become a member by paying a symbolic fee and get access to equipment that you would never have at home such as 3D printers, laser cutters, CNC routers, etc. There are just looking to collect members. Currently there are 3D printers and normal tools like soldering iron and others. Next step is to get a laser cutter. They host events usually on Mondays and you can sign up to their newsletter here.
 (disclaimer: I joined MADE as a member, not an organizer)
The presentation was performed by two speakers, members of the group: Albert Campos y Andrés Dans.
Pure voluntary work that I really appreciate and must be acknowledged here. The aim of the group is to build a community, so first is to offer to others what you can share, to then receive from others. So kudos for both of them, and kudos to the volunteers that we have already for next events!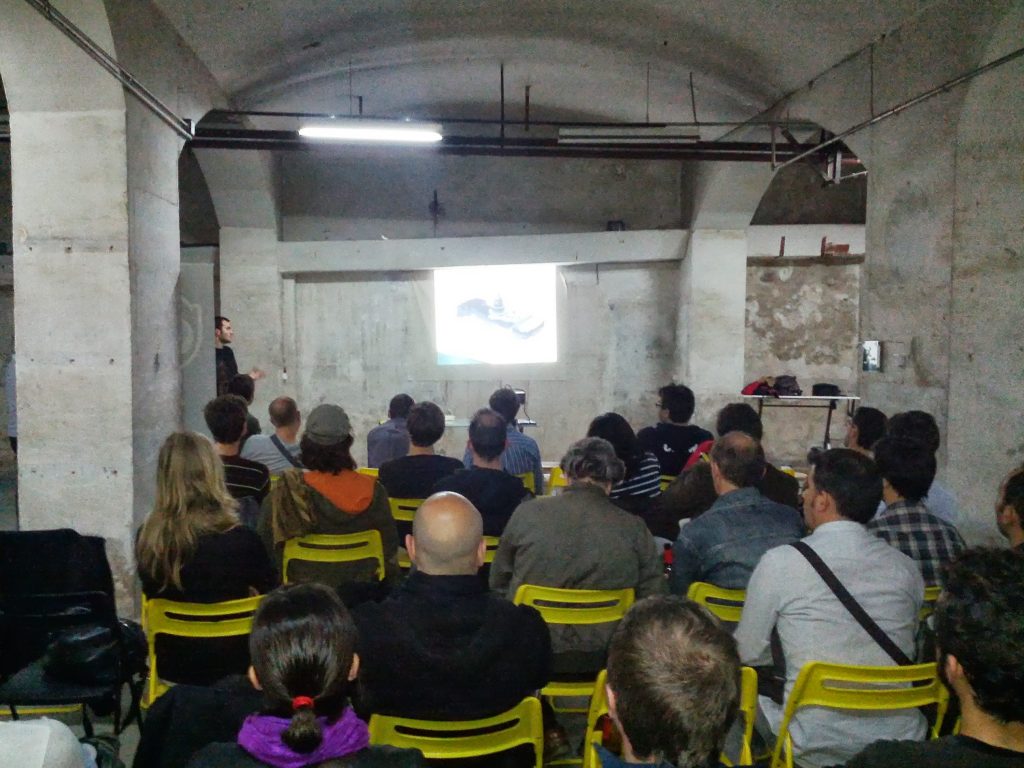 Albert explaining uses of 3D printing
The presentation was about the uses of 3D Printing, the different techniques for printing including the professional ones, and then more focused in the home use, how we print with FDM with some demo video.
After we had an interesting round of Q&A to end up with networking.
I was a bit surprised that among the participants with no printer only one person had an object printed by others. So, that opened the need of a survey to know more that I launched yesterday in the group.
With only 11 answers up to now, nothing representative, it is interesting to see people's aim. Home type printing and if possible an owned printer.
Here the survey results in Spanish

Next event: Blender!!
Open source software for objects modeling, that has added tools for 3D Printing in its last upgrade.
Still looking into dates, in around 3 weeks.