I recently ended a free JavaScript programming online course from EdX, and I explain here my experience.
The course is Programming for the Web with JavaScript, created by Penn University for EdX. I'm interested in JavaScript because I have a couple of products in Artecitos where we use external websites written in JavaScript, and I am looking to be able to tune them to improve the design process, before manufacturing.

Course results, everything graded automatically
During these years, not dedicated professionally o programming, I learnt and used quite a lot of programming languages. Starting by Basic and Assembler for Commodore 64, going through Pascal at school, Visual Basic on my own, C, C#, 8086 Assembler and Java in college, and later on Python, Ruby on Rails and now JavaScript on my own thanks to MOOC that give you access to free quality content. In my case content is always in English, so I can access to content of prestigious American universities.
I like a lot the EdX online courses, when related to programming, because they use auto-grading. You create the code required in the homework to deliver and upload it to their website to get an automatic grading instantly, with the points that fail. In fact they use testing tools to automatize grading, and what you see is the tests results. The only thing that can be improved: I provided a suggestion that those tests could be downloaded to your own environment and apply Test-Driven Development.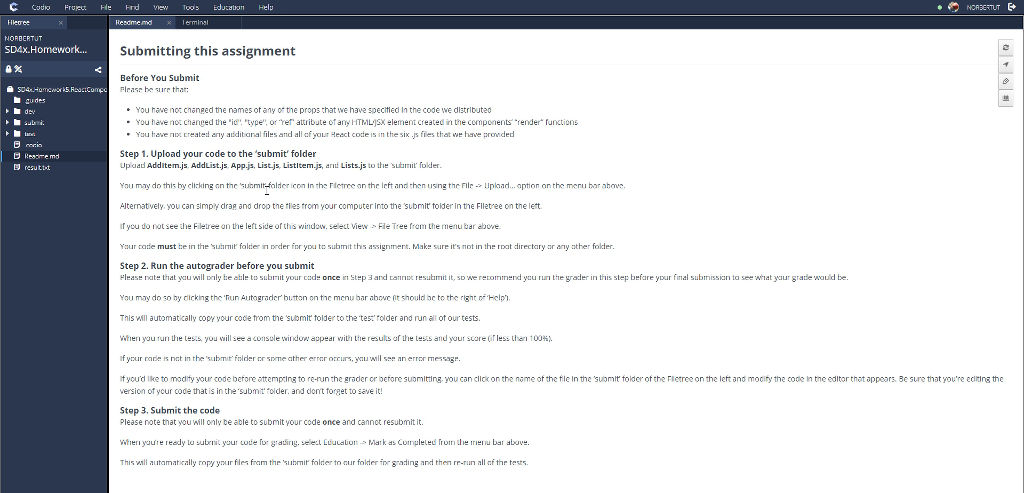 The auto-grading platform in Codio
The course is very comprehensive, even too much, since it covers a wide set of topics expected to be done in 4 weeks: HTML, CSS, JavaScript, JQuery, React, Node.js, testing, SVG with JavaScript, EJS and MongoDB.
It's too much content for the videos there are, and it does not go deep enough many times. So I do not recommend it to someone who does not know anything about programming, because you have to find your way to complete the exercises.
On the other hand, I enjoyed it because you cover quite fast all elements of a web development environment. And in theory with what you have learned you could jump into creating a website. However, if it's not a simple javascript, you should also find out how and where you host the production environment…
For now I may try to make a mix in JavaScript Diego Trapero's 3D printing costs calculator from Bitfab stored in Gdrive and the other one from CNC Kitchen in Excel. Time will tell, as I am quite busy with the Fusion 360 book I am currently writing!