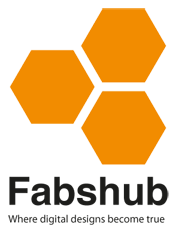 I see now that I have not been writing for more than a month. But in fact this is not exactly true, since I've been writing but in the Fabshub blog.
This is the new project that I started with Esteban around five weeks ago.
What is Fabshub?
Basically, and based on the comments from people in several events from the 3d Print Barcelona group, we found that on hand there were people with willingness to 3dprint for others and on the other hand there were people with interest to 3dprint objects. so it made sense to create a marketplace.
In addition, as in our souls we are makers and we love the Maker world we also decided to include other digital fabrication tools such as laser cutters, CNC routers, vinyl cutters and 3D scanners. Those that need something to be made will not have to do it piece by piece. Everything will be available on the same site 🙂
If you need someone to make a design for you we will also have designers providing 3D modelling service.
What have we done up to now?
Well, defining the model, create a landing page, a blog, social networks presence (Facebook, Google+, Twitter, Pinterest), …don't underestimate the amount of effort that all this represents.
With the first 50 registered users we ran a survey some days ago already.
And few days ago we ended the web design, the wireframes. Frankly speaking, the most tedious part. Although we know this will change over time, we need to start with something.
It's like when you have a plan. Plans are never accomplished on time, but at list they serve as a guide haha.
We are already taking orders via a form. Good practice since it lets us understand a bit what people are looking for, and the fact is that the majority have a maker focus. It forced as to take a service discoverer role using our contacts network: a CNC cut, a 3D scan, a 3d print but with a resin printer, and finally a normal object 3D printing…
Talking to people we also learned about other interest topics such as selling parts, additional services for makers like design and printing of PCBs, training courses, workshops to build 3d printers, …etc…
But this is for later. First thing is to have the basic service up and running 🙂
Update 2020
The project was cancelled few months later. The upcoming of several similar projects at the same time, lead by 3Dhubs didn't help, added to the lack of full commitment from the team.