Last Thursday I started a new Fusion 360 workshop at el Punt Multimèdia in Barcelona. In December there will be another edition at TMTMTM (located in Hangar).
Truth is that teaching is really satisfying experience for me, because you see when people get to those aha! moments, when everything makes sense.
The first session is one of the hardest ones. During two hours we spend a lot of time explaining the interface and what does what. Because people are not creating anything, and that's what majority of people who enroll like…but after this we jump in 2D Sketch part and we are already hands on! Sketch can also be overwhelming due to the amount of tricks, inferences and constraints available, but you are already making something…
I usually improvise a sketch profile while I explain how to draw lines, define them in relation to the origin, assign distances, apply constraints for perpendicular, midpoint, horizontal/vertical, add splines, etc.
And after that we make some Revolve & Extrude operations so people understand the impact a 2D sketch has on the generation of a volume. We also see the beauty of parametric design, applying changes to history operations and seeing how the software rebuilds everything with the new changes.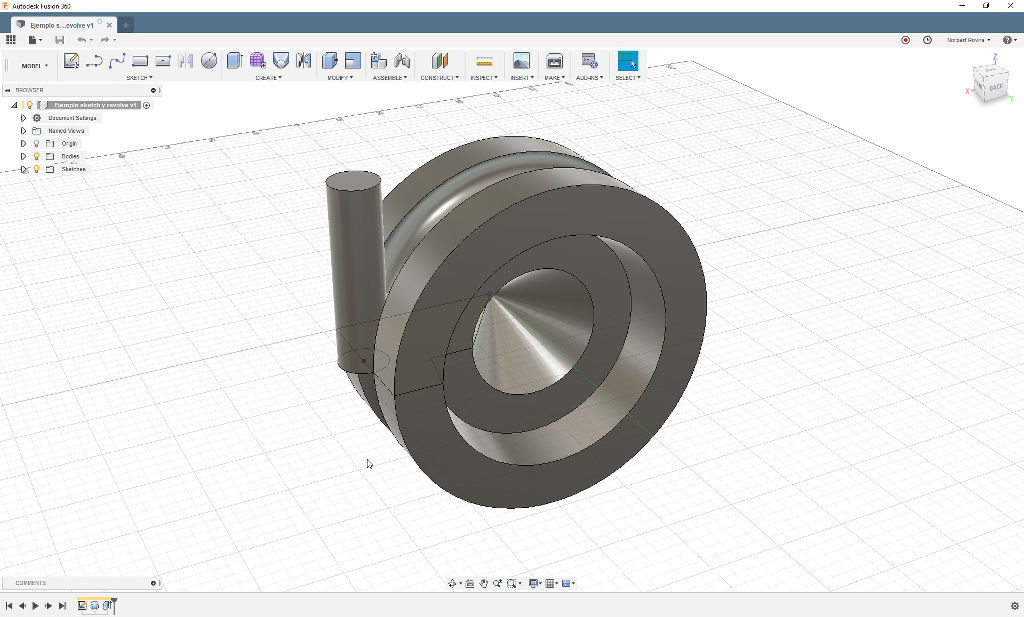 Example of the first simple object created in first session, with a Sketch, a Revolve and an Extrude
To finish up, once sketch is already learned and we have applied a couple of operations to create 3D solids, we made a pawn. It is something easy to make: you insert a profile picture of a pawn as a canvas, an draw the profile with lines and splines. Afterwards you apply a Revolve and you already got a pawn. To make it better, you assign a material to the new body, and move to the Render workspace where you can run "in-canvas render" as-is, and you already got a pawn in wood, glass or the material that the trainee has chosen. Because they're really creative! 🙂

10 participants and there is not a similar pawn! at el Punt Multimèdia…
To promote a 2h workshop about Introduction to Fusion 360 that I made with the group 3D Print Barcelona, I made this small video teaser where you can see the whole modeling process of the pawn, it just takes a couple of minutes in fact…
I leave a couple of pictures more from day one.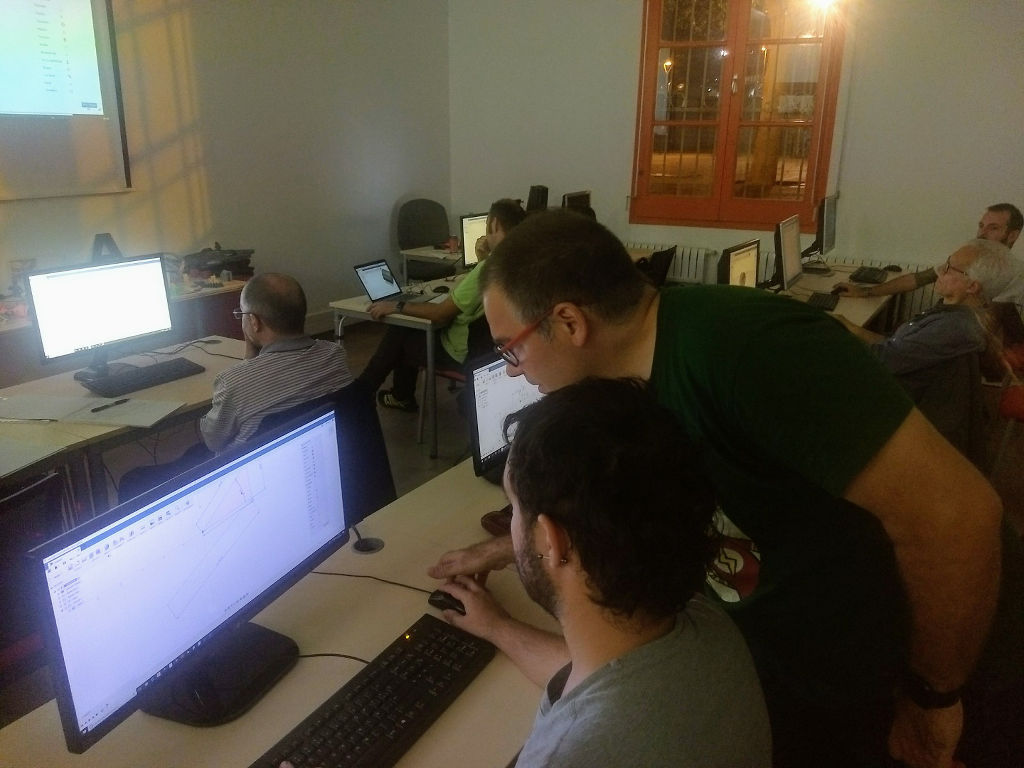 Sorting out participant doubts
When this 12h workshop is over, I will give a similar course of Fusion 360 in TMTMTM at Hangar, Barcelona.
It will be on Tuesday and Thusday in December, from 7pm to 9pm for three weeks. In more detail, on 3, 5, 10, 12, 17 and 19 December 2018.
If you are interested in other formats, I also make other types of training. For example private lessons where we develop a project together while you learn at the same time, so that you can follow on your on in the future. And several levels of online courses.