[Update Nov 2022]
This post is from 2019. And my focus is on online courses now so individual sessions are pretty expensive, to the point that it is more convenient to buy my online courses.

It makes sense for specific projects if you are in a dead end or for some enterprise needs but to learn generic concepts online courses are better.
[Now the post from 2019]
I've been giving in person private lessons of Fusion 360 for more than a year, and since last summer the option arose to provide online private lessons via webcam.
It happened to me already a couple times that people from other regions contact me looking for Fusion 360 private lessons. But they don't find anyone in their area.
Logically it's better when you can take in person lessons because there are more opportunities for interaction or, given the case, take a piece of paper and sketch something to improve the explanation of a concept that is being hard to catch. But it is also true that there is less and less difference between online interaction through videoconference and in person ones. If you don't find anyone in your area that can give you the service, the alternative is clear.
Advantages of online lessons
On the other hand, online brings you plenty of advantages:
You don't have to travel or you don't pay for travel.
More flexibility in time schedule and adjusted to your needs.
All comforts of your own home: beverage, smoking, your computer, your chair, etc…
You don't go to unknown people's house, and no one comes to yours.
The experience
It is important to have a good setup to ensure the session is interactive.
For in person lessons we sit down next to each other, each one with his own computer, and I first show something and then check that the student makes it in his own computer, to ensure that he understood perfectly.
I tried to get to the same result with online interaction. The most simple setup is that each one has two screens: one is obviously to run Fusion 360, and the second can also be a tablet to watch the screen I am sharing.
We use two connections, one for Skype where I share my screen and we talk and see each other, and a Hangout to see the student's screen. The great thing about this is that everybody has Hangout and Skype available in their laptops or tablets so it is pretty easy to put this setup in place.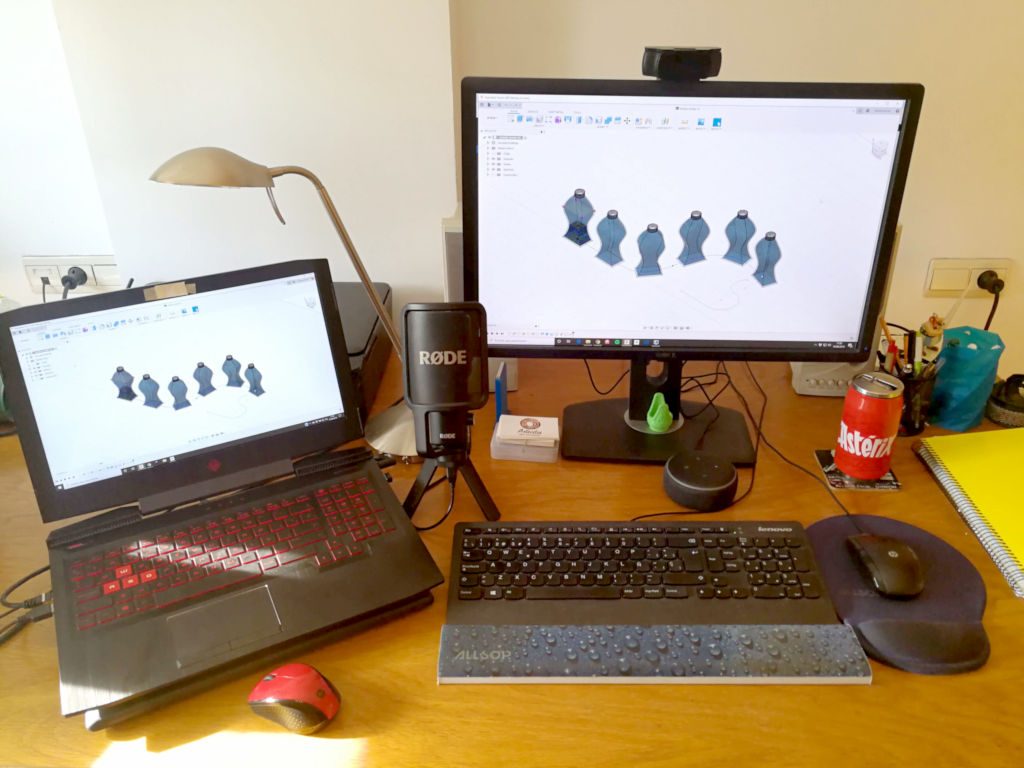 After several sessions, I have to say that the experience is really good, that's why I opened this as an option to give private lessons.
Since you also see the webcam in your screen (as a thumbnail) you also have the feedback provided by student faces: if he is understanding, confused, etc. and the same thing in regards to his satisfaction about the session.
I talked about it when discussing private lessons, that one of the things that they mostly bring is direct feedback from the student thanks to the higher interaction than in a group course. And this is very rewarding for a teacher.
Conclusion
Fusion 360 online private lessons are available as a service from now on. As always I adapt them to your defined needs (after showing a minimum of interface, workflow design and working logic).
You just have to contact me and, if you have some doubts, you can also check upfront if something is doable in Fusion 360. Although the tool is very polyvalent and covers the majority of design needs you can have, it does not work or at least it is not ideal for some types of modeling (e.g. polygonal modeling for characters).