About three months ago I bought a Stepcraft CNC router, following the advice of a friend that already has it.
It's not an industrial CNC router, but you can play quite with some stuff given its size and the ability to cut aluminum.
[UPDATE 03/2019] I added at the end of this post my experience after a year and a half using it.
Stepcraft is a German company that also has a branch in the USA. The machine went through a kickstarter campaign successfully.
Since then they have improved documentation and the available information, and have also added optional upgrades to perform tasks such as laser cutting, wood engraving, vinyl cut, 3D printing, etc.
What I liked more from Stepcraft is the community behind their product. The Facebook group is very active and there is a lot of sharing, ideas to make, suggestions, solutions, etc. And of course there is the brand support.
I bought the 840/2 kit version, the biggest one. And with this the HF500 Spindle and aluminum base to add sturdiness.
Assembling instructions are excellent, with step by step videos.
So the assembly did not have any relevant issue.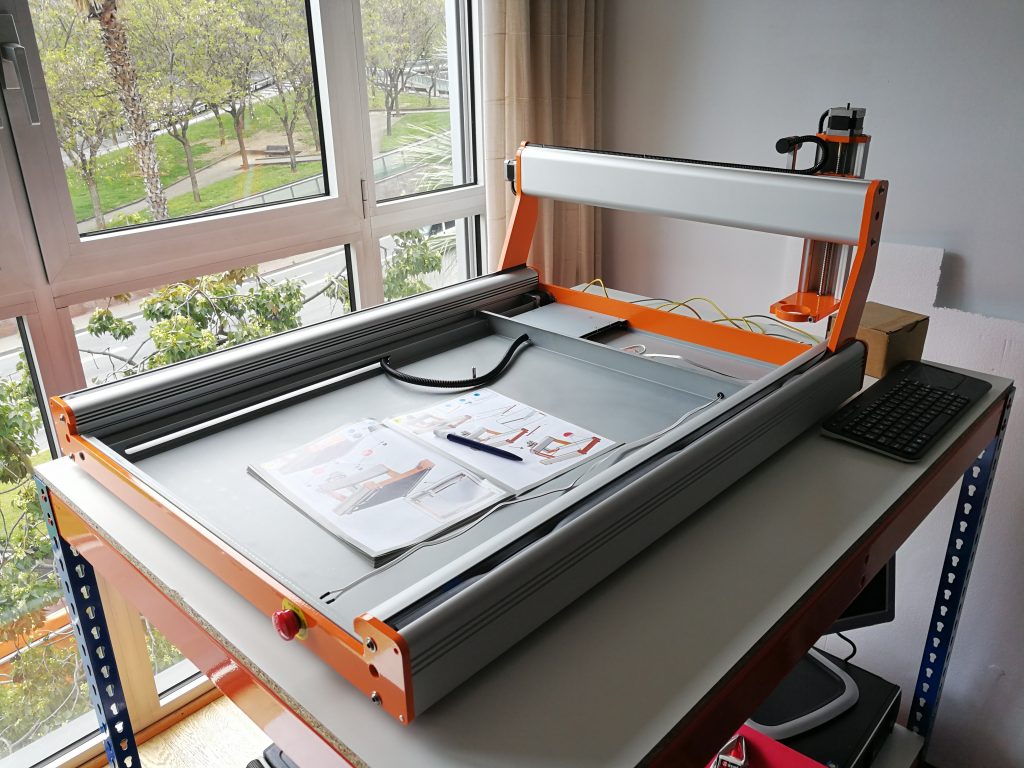 Stepcraft kit in the middle of the assembly
I did some screw ups, like tightening one of the axis too much to the point of making it bend without noticing because it was covered.
Or break the first mill out of stupidity. Looks like the "Hello World" for coders applied to CNC routers 😛
First cuts were done with MDF, making basically simple 2D cuts. I painted and varnished them afterwards.
I made names, hashtags, logos, PacMan and its ghosts, etc…
First thing Natalia name, my girlfriend 😉
Next steps are testing with other materials and other mills. But I've been over a month now tied in a 3D project for a multinational company where I am 3D modeling a prototype and 3D printing several versions and materials options. When this is over I'll come back to the CNC router.
I leave a small gallery of stuff I've been making or still work in progress 😉
[UPDATE 03/2019]
Experience after a year and a half
Having this CNC router gave me the opportunity to found Artecitos with my partner Natalia. We make customized objects in wood for decoration and gifts. The product we like more is the portrait in wood painted in two colors. There are also requests from companies from time to time. But what defines us better is the ability to design and create something unique.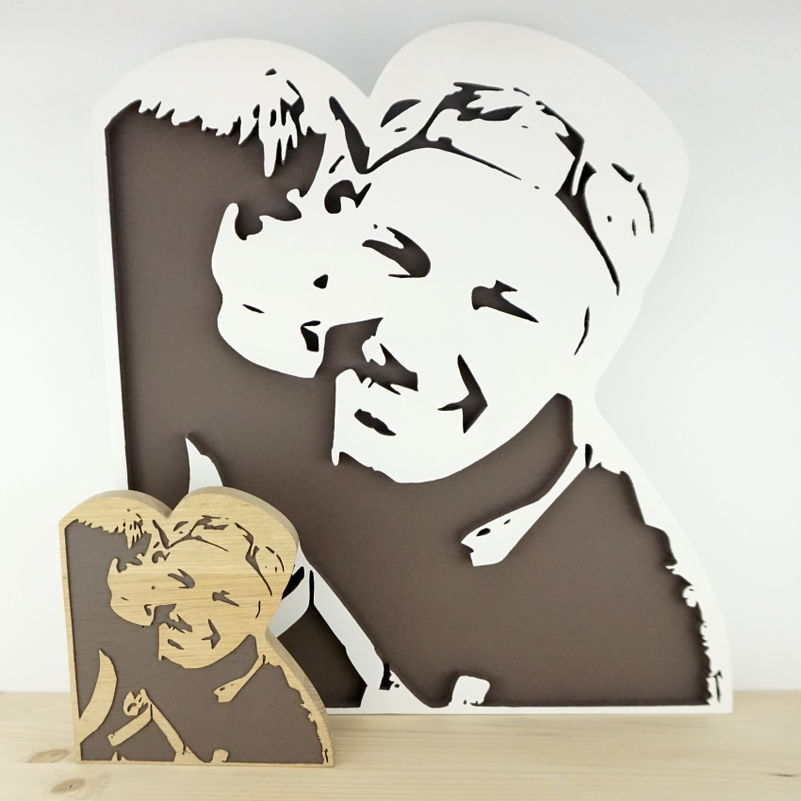 Portrait in wood in two colors, by Artecitos.
The Stepcraft D840 ha a week spot, the Y axis. The fact that it is driven by a single stepper motor that moves two axis through a belt can give more than a headache. Especially because it forces to have everything super aligned (otherwise it tends to bind when travelling along the axis). It's not the most rigid structure, either, that's why it is very recommended to buy the aluminum base if you want to cut something more than soft wood.
It's been announced that by April de 2019 there will be a kit that sorts out the Y axis, by adding a motor in each axis. Will be trying it for sure!
Another negative point is the alignment of axis relative to the cut plane. There is no effective way to ensure the mill is perpendicular to the surface, what is called tramming.
Stepcraft keeps evolving. They created the Q series more robust, more expensive, but with better specs after all the learning with the D series. The company is solid, German, so worth the shot if you can afford.
As positive there are quite some things: this CNC router is a good entry point in this world at an more or less affordable price and with a good cutting surface, for semi-professional use. You can use it intensively provided you keep applying maintenance frequently. There are kits to use it with other purposes such as a 3D printer (I dont' recommend this one, just buy a cheap 3D printer instead), laser cutter (I've seen many people using it), vinyl cutter, support for a pen, wood engraver, etc… it even has a kit for automatice tool changing.
It is super documented, there is good support and in addition the community is big and very keen to help. Don't doubt!
I would buy it again.
[UPDATE 06/2020]
I use Fusion 360, and you?
You have two options to use the CNC router: Vectric with Cut2D and VCarve and Fusion 360. Although people say VCarve is easier to use I decided in 2017 for Fusion 360 because it has a free license and a postprocessor for Stepcraft.
This brought me to focus deeply in the tool and use it as my main design tool since then. As a consequence I published the first Fusion 360 book in Spanish, created the Normaker YouTube channel and online courses with different levels.
If you are interested in using Fusion with your CNC router I recommend the course curso de Fusion 360 Básico (Level 1, in Spanish). Although it does not cover topics related to CAM, you will have a strong base to take the best out of your machine regarding solid design. You have more details in this link.