Today I am a bit angry, but I can't do much in respect apart from venting out through my blog as a megaphone to share my pain.
The 3D Print Barcelona group about 3D Printing exists since 2013, and we perform events through meetup platform from the beginning.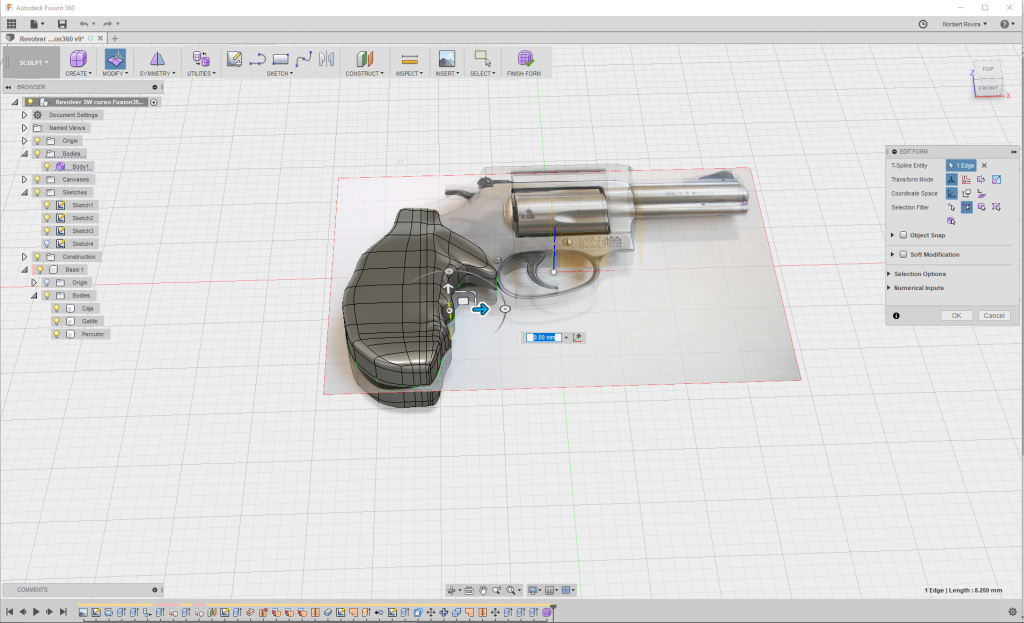 Fusion 360 interface in Sculpt module
Today it was my turn, an introduction event to the Autodesk Fusion 360 tool. I've been using it for some months now and I love it.
So I felt I was empowered enough to give an Introduction session, obviously with the corresponding prep work that was a couple of days.
During the 2h that the session lasted we were going to see how to model a revolver starting from a picture model.
I obviously modeled this before hand to have a clear view of the steps to follow. Here is a picture of the real revolver and a simplified version render.
The damn no-shows
The question is that for today we had RSVP of 27 people.
From these years experience I am used to see that more or less 1/3 do not show and do not cancel or anything at all. We are so civilized.
Buttoday, after an hour and a half preparing the eventes in place setting up all the computers software, only 8 out of 27 came.
And honestly after this shock I looked backwards and realized that there is a growing trend this last year in this no-shows behaviour. Which is to RSVP for an event andthen don't show up, don't give notice, don't cancel, or anything at all. If it was a third in the past, now I think it's more around half or even more.
I was once in a Woocommerce event, free of course, where more than 20 people had RSVP and I found myself there with just two other guys that sowed up. I was really feeling bad for the presenter who had all the chairs setup and in place for a normal group size.
I don't know what can be done about it, but I surely have an opinion in respect, and this is that I find it completely unacceptable.

In today's event
Solutions
There is in fact no miracle solution. I was once in meeting of meetup groups organizers to discuss the topic of no-shows and how each one was trying to solve it, with no clear conclusion.
There are groups, e.g. those of mountain activity, that directly ban the members after two no-shows because in general it implies to leave someone else without room. or if he drives to leave others with no option to come. But applying this implies creating a list and checking in every event, to setup and perform a no-show control for every member of the group. Then the group instead of being a meeting of happy and open people becomes something else. And this control job is not appealing to anyone.
Other groups request a symbolic payment of 2-3€ because when people pay they think better what they do in terms of RSVP and they value more the event. It's sad but it is like this. But the drawback is that it implies someone has to become responsible for the money collected, and worse, those who cancel within the appropriate timeframe are entitled to a refund and you will have to manage a new control again.
Others just send email reminders stating that there is limited room and they have to cancel if they don't come. It has some effect but I don't think it is much. When we have done this we kept having no-shows. It is true that for this Fusion360 event the date was scheduled before summer, and it can happen that people that RSVP at that moment already forgot, but unless the platform is not working as it should anymore, they keep receiving messages in particular with the event details update few days before.
In our meetup group 3D Print Barcelona we are not in favor of setting up controls or any other coercive measures. We like to spread and share our knowledge for free, and the reward is the people that appreciate this and then join us to share also themselves.
But these behaviors sort of blur the group intrinsic motivation, which is just a pure hobby.
[EDIT 21/9/18] After several events requesting 2€ paid upfront we have sorted out the no-show issue. We are just applying this when it's a workshop and seats are limited, for open events it's still free.
The future ahead of us
I don't know what I will do in the future, I think the next event I will be presenting myself and that implies preparation work is going to be paid, as per this experience. For the usual events in presentation format with no preparation required like Introduction to 3D Printing that we are used to perform, I don't care if people does not show because we don't have RSVP limits or anything like this.
In any case, I keep for myself the satisfaction of being useful for those eight people that came today and enjoyed the event at full 😀
If anyone has any suggestion, I really welcome them in the comments!
And I take the opportunity to remind that on Saturday, October 28th we organize the Printer Party, an open event for everyone. More info at 3D Print Barcelona.