The weekend of June 1st & 2th I joined Barcelona Startup Weekend.
Disclaimer: this post is going to be long, just because it has been sitting in my ToDo list for some days now, and I guess I had enough time to digest the experience, so more content!
All participants met on Friday. 60 seconds to pitch your idea, and then eight teams of 7-8 people are built by votes and affinity.
Around 60 participants, and among all we pitched more than 30 ideas. Amazing!
So we did not have much time for networking this day.
My idea had some votes, but it wasn't enough attractive to be in the first eight. In fact I have myself doubts about its feasibility for some parts, and if I am not even convinced myself where am I going with this? Americans have the phrase "Eat your own dog food", which matches exactly this in the startup world. Do not design something you will not be willing to pay for nor use yourself.
So I decided for the concept Camping & Breakfast, a sustainable initiative to free up unused land so that free campers can use it. During the weekend we evolved it to camp&break.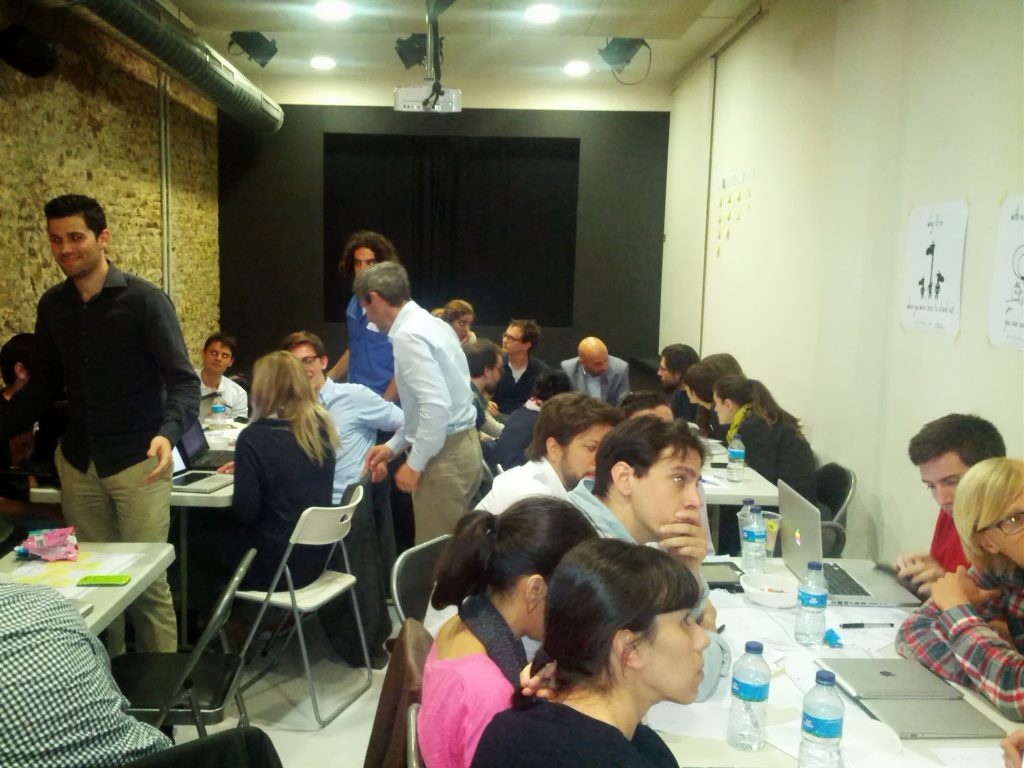 The next day, hands on. You get a copy of the Canvas and a bit more documentation and you have two days to work the idea. At some point you have mentors visiting around the tables giving advice or even helping to reorient the idea.
Our group had a high variety of profiles: architect, designer, communication, marketing, biology entrepreneur, engineer, developer and myself but I often don't know how to define myself. More business management than any other thing for this event, but I am passionate about the techie topics…
The engineer was not feeling good and we lost her on Saturday afternoon. Never came back. In addition to working, we also had some networking moments, for instance Joan and I went to have a drink with the organizers at the end of Saturday. And everybody had the opportunity to speak with people from other groups sooner or later. Well, and on Sunday after prices were communicated we all went to have a drink.
The experience was new to me. I had spent full weekends doing mountain activity, with bivouacs and stuff like this, and the last weekend fully dedicated to something was back in April when I built my own 3d printer in a workshop organized by RepRapBCN (if you can afford it, very recommended!!).
This one had in addition a play component but also some work aspect. But frankly speaking, I recommend it strongly. I enjoyed the experience of working in a diverse group with different points of view, to see the importance of design and communication to present an idea, when i am usually focused in a more spartan view of the concept.
But people want experiences, not just functionality. It will be a challenge the moment we define a MVP, as for me it is just enough that it does the minimum that it has to deliver while the design/marketing oriented people will want it that it has a minimum of attractiveness. I am fully convinced that I will learn something in this route 🙂
During the weekend we quite modified the concept. Initially we wanted to get money for providing a quality badge or label to the land owners, and then we moved to a more similar concept to airbnb where we granted a minimum quality standard by unique views for instance, also through the badge, but away form taking this as the main source of income and looking at badges as the platform quality gatekeeper. We will have to follow working on the concept and review the badge concept as it seems to me low scalable.
We made a 5 years plan, not needed but we made it, to experience ho easy it is to change and forecast figures until making a profitable plan.
In fact Luis M. Cabiedes made a speech on Sunday where he explained something already known, that investors completely ignore financial plans just because it is really easy to modify them and are usually away of startup reality which is absolutely changing.
The most important: CAC < LTV, or in other words that the business model is good.
On Sunday after some stressful moment finishing up the presentation against the countdown, we made the presentations round. We were the last ones! It seems worse than better as you see how well other presentations are and you get more nervous. But nothing we can do about it.
Sandra made an excellent!!! And Pati rounded it with the Q&As.
The main doubt among the jury was the legal framework, and in fact this is the first thing to address as we did not have anything validated at that moment.
And finally, after the jury discussion, we were winners!!
I just was astonished for winning, taking into account that you usually tend to look at your project weal points than in how it excels compared to others. But the truth is that the presentation was wonderful and the idea is innovative. And as a mountaineer, I was captivated from the beginning.
After this and the flush of success, we will have a first meeting to decide what we do. Generally there is intention to carry on.
Not sure if the seven or less, we'll see next week.
Anyway, although there were some basic logistic mistakes from organization, the process and the experience is worth doing it. It is a very good learning experience and in addition it lets you know many people with interest in the same topics. You will not learn theory about startups, and nothing related to lean startup, this has to be already part of your grounding or absorb as much as you can from your colleagues.
And I recommend it!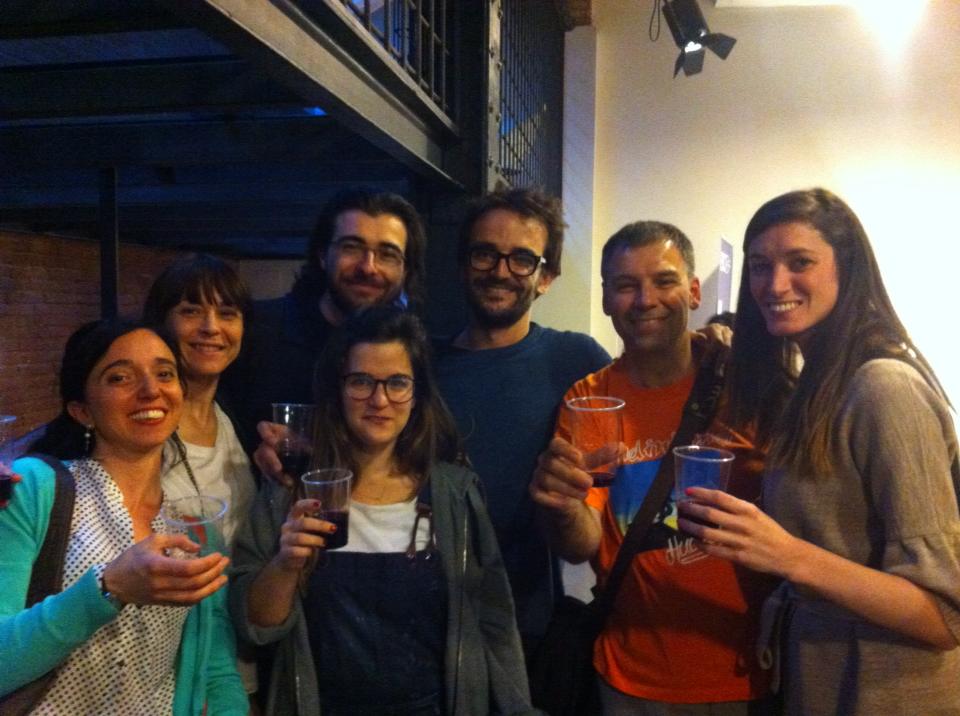 Cheers to my team friends: Sandra, Mario, Pati, Mariajo, Joan y Aina. Good team!