Today I've been in the La Salle Tech Demo Day. An afternoon event where 100 startups can showcase what they are doing.
There was quite some focus on social, but also some focused on B2B and other types of problems.
For example, Natural Machines. A project to build a 3D printer for food printing.
We have trade business cards, given the interest it can have for our 3D Printing group.
By the way next Monday 27th there is an event Introduction to 3D Printing (hosted in Spanish or Catalan), prepared for the people that have interest in the topic but do not know much or seems difficult to them to find their way. You can RSVP in the meetup group. It will be hosted at MOB, thanks to Makers of Barcelona and in particular to MADE, the makerspace that is being created in the basement of MOB. The topics are fully aligned with our group!
Ah, an don't miss the Mini Maker Faire in Barcelona on June 29th. I will attend, of course, but not showing anything yet.
I also helped funding the event here in Ulule. Hopefully they get enough funding to make it.
Well, writing about the Maker Faire was a pending ToDo for a while, so glad to have done it yet. Let's get back to Tech Demo Day.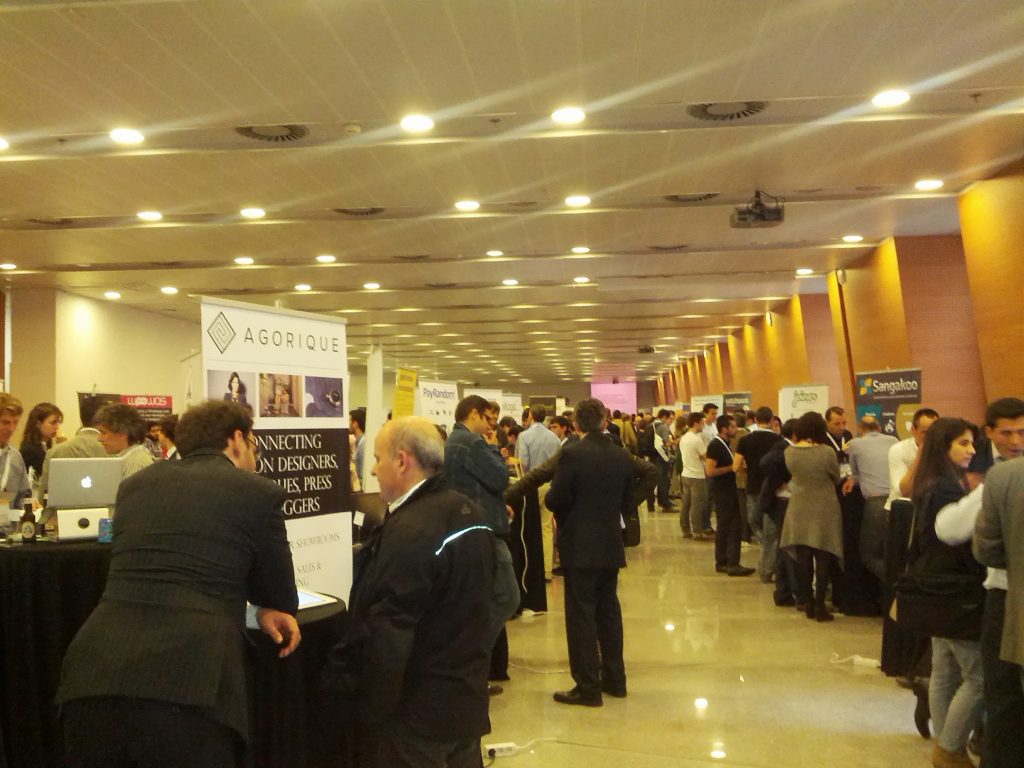 As you can see by the blog content, I am interested in almost anything, no focus, so I spoke to many people.
I was really glad to meet Josep Velasco, a colleague from the first company I worked in!! and he has a startup GEOPLUS that provides geolocalization services through SaaS.
I've been discussing with a company that facilitates marketing campaigns with NFC and QR codes. You can check at NFC2.me [Upate March 2017: it no longer exists].
It took my attention because I played with NFC some months ago, here a post of my tumblr, and I have some tags that run automatic tasks when I swipe my cellphone over them. For example in my car it activates the GPS, runs Waze, etc…on my bicycle it activates the GPS, runs Endomondo and stuff like this. If someone is interested you can write me, I can give advice around the topic and recommend the best apps for that 😉
I was caught by the lively enthusiasm of a guy from Vic (I'm so bad for names) who sold his startup idea. Bhappy, based in Manresa [Upate March 2017: it no longer exists]. The thing is to spend few minutes at the end of the day to remember the good moments that made you happy, alone or in company. The idea is to share it with the people that made you happy directly to the persons or through hashtags. I downloaded the app but it's just too late to play with it today 🙁
I liked the concept, especially now that we all live by our ToDo lists, not sure if GTD helped us to live better or worse…at least before you could forget things. Now you have it in a written list reminding you that you procrastinated, again haha. The fact is that it is good to review the day looking for the positive aspects.
I also spoke for a while with Tobias Maier, from Recently [Upate March 2017: it no longer exists]. An app specifically dedicated to biomedic scientists. You provide a set of your reference articles and through an algorithm developed by themselves it makes content curation, so suggesting the most relevant papers. There will be a premiun service in the future.
And well, I met more people but I stop here to make it short.
I also joined the Betabeers conference about failure in startups. Found some pieces of relevant advice. There has been a lively discussion about investors topic, in terms of when you need to take the money and accept investors conditions and control, try to self-fund, fund through growth as early as possible, etc…
And that's all, another day of lively activity in Barcelona!