[Reviewing my blog I found a post that was never published. From February this year. Here it goes as is]
Last Sunday we went to the Barcelona Mini MakerFaire, that took place at CosmoCaixa. With our 3d Print Barcelona group.
It's not the same to organize than to exhibit, clear enough. We just sorted out what we were going to do in a couple of meetings.
For the Printer Party it took us a month and a half with weekly meetings, it is really not the same 😉
We went around 10 volunteers from our group. I was even a bit embarrassed when sending such a big list of participants to the organization, but well, they know us..
Some stayed the whole day, while the rest were shifting between morning and afternoon.
The group article is in this link, so I am going to explain the most personal piece.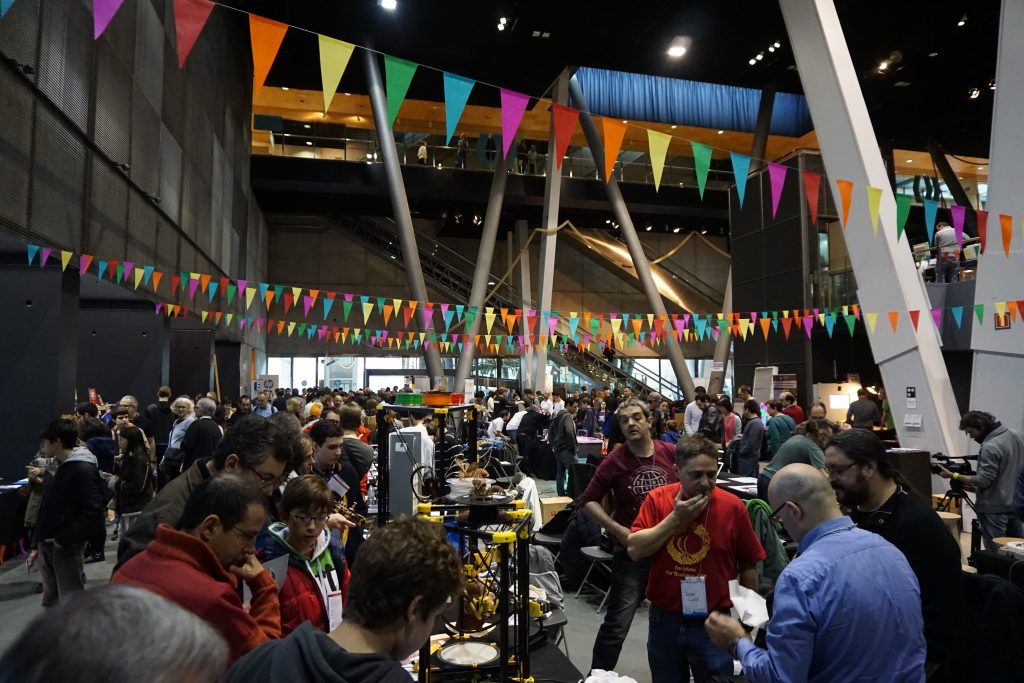 Few members of the group in full action
The place got really crowded, we honestly did not know how it was going to go in such a far place, but it was already full the moment they opened. And it got even more full during the day!
On Saturday I printed the group logo, in big size, so I had to make it in two pieces. First the "3D" that I could finish at home, then I had the "Print Barcelona" to do the they after during the faire because I had to bring the 3d printer to CosmoCaixa the afternoon before. All unloading was done this day.
The logo, the piece made at home
So I started another print during the faire.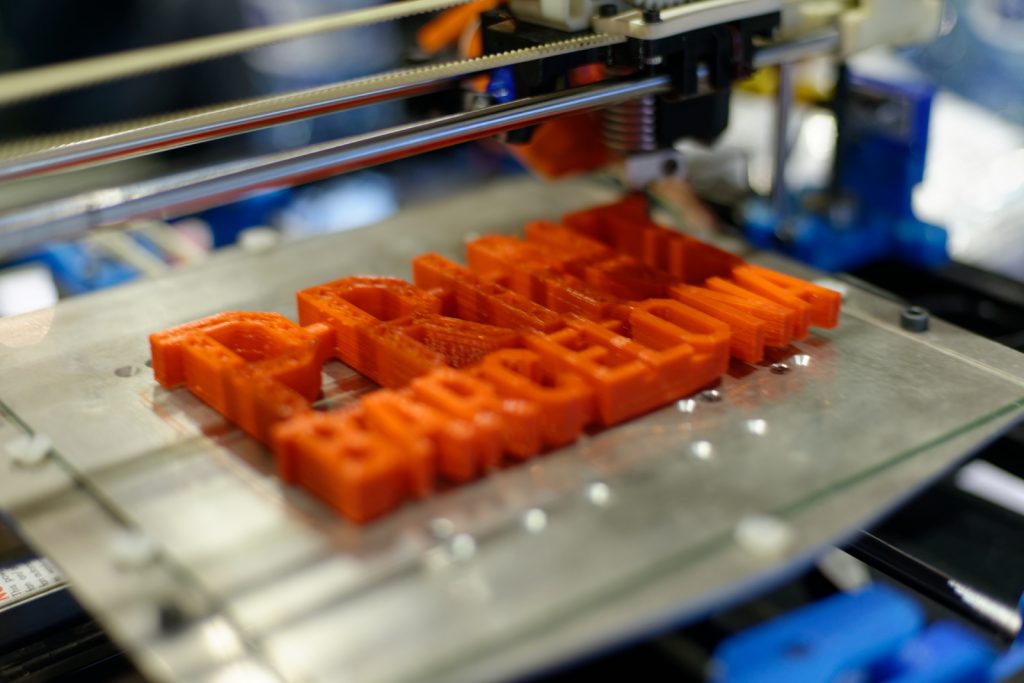 A failed printing attempt
We had fail samples already, but well, here goes a fail in time. If you look at the right side you will notice a warping. Lack of hairspray was the verdict 😉
Due to my involvement in LynxCross gym, a functional training a bit special because it includes vertical moves on a wall, I no longer follow the maker and 3d printing movement as I did in the past. There is a lot of DIY in my gym, if anyone is interested or curious to see it he is welcome! it's in Sants neighborhood.
So that these type of events come in handy to get up to speed quickly. You can see things lije a 6 extruders 3D printer, or someone growing up mushrooms with a system automated with Arduino, and others in similar fashion that just keep me in surprise mode.
The most common were drones and 3D printers. We start to have some SLAs in Barcelona: one from Printhatshit, a new one from Raúl from Hangar and I saw another one shown by I did not have the time to talk to them.
Many known people from Barcelona circle between makerspaces and local shops, many of them from group members with a drive for entrepreneurship that have started their own business. And that unfortunately we see less by now, because they have to attend their own business!!
Plenty of good vibes between the people, David from 3D-Seed gave me a sample of PETG filament to test it, but I did not notice it was 1.75 filament and I continue with the old fashioned 3mm. Soon it will be three years with my 3d printer! so I had to give this sample to someone else in our group.
Roger from BCN 3D Technologies gave me a spool of PLA from Colorfila also to test it. It is local filament, and I am hearing positive comments about it, good that we have local products to supports entrepreneurs from here.
Jordi from Makers and Bits gave me a 3D printed minion also haha.
I am printing the second part of the logo again, to have it done once and for all. when it's done I will test this filament.
From our stand the most successful were the the Fails. We could not get much because I thought about it the evening before. We knew there were many shops, showing the marvels that can be done with 3d printing. What could we add as a non for profit group? well, showing the less nice part, the fails. We all go through it and it is good that people know that it happens and how to prevent them.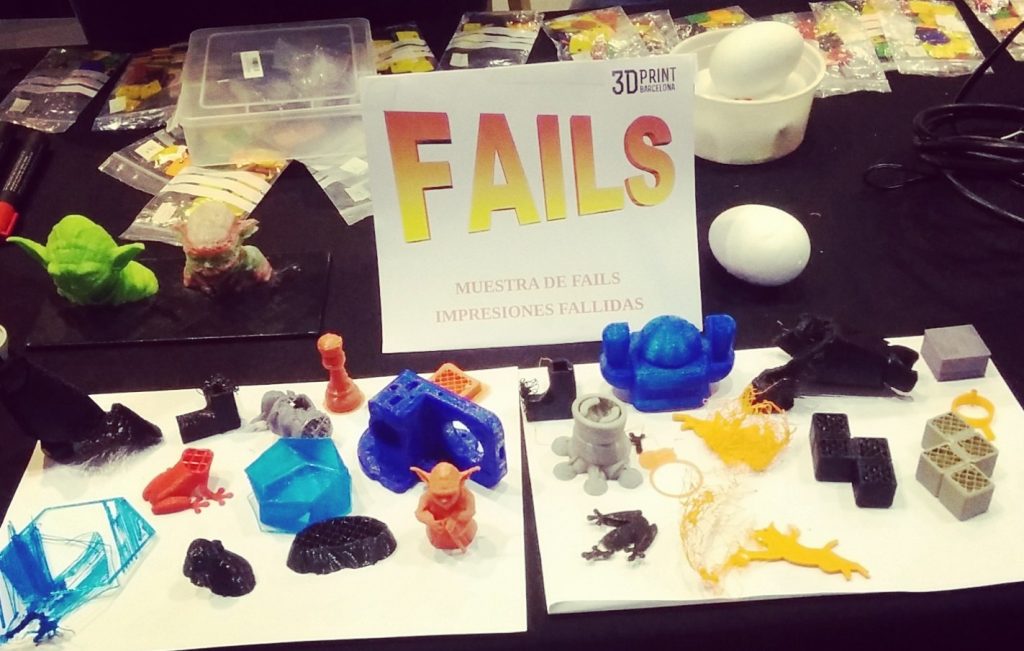 In fact right there the filament broke and I had a fail. You can avoid it, by keeping the filament in a zip bag with dryer material away from humidity, but I haven't done it before.
The second thing with most success were the 3D printed letters, because we were giving them for free! we had so many spared from the Printer Party that we still have to giver. In fact we missed something important, to add a sign stating that they were for free, only someone thought about it in the afternoon.
And then another thing that was catching a lot of attention from kids was the 3D printed Tetris, because you can play to place the pieces at your will. Some kids were directly jumping into moving pieces around without even asking…times change. What is interesting is the lack of references in some cases, it's not a modern game, and I was seeing some kids setting pieces on the top side, like a jigsaw. Anyone that has played with Tetris puts the pieces starting at the bottom without even thinking about it, just where the pieces would fall in the game 😛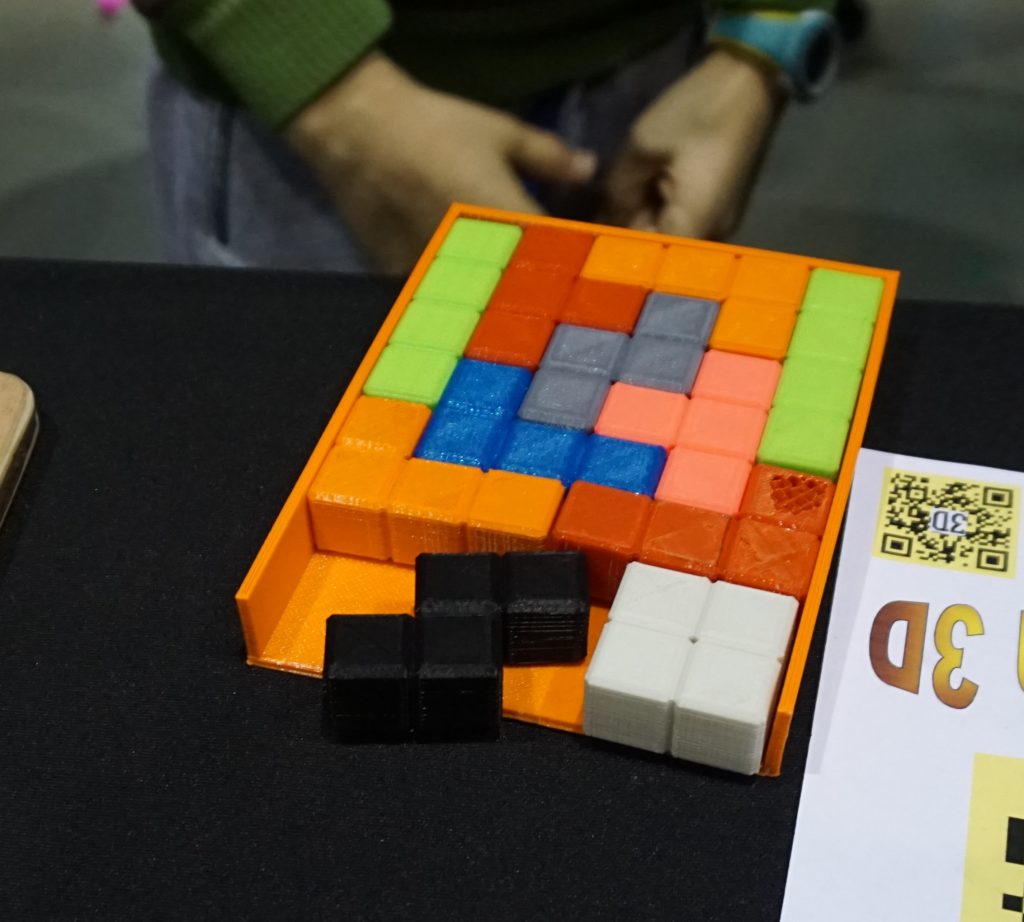 I also met César and Sara from Makespace Madrid, that let me touch and hold the awaited "Manual de Supervivencia Maker" book. They made it happen, not without plenty of effort and issues that happen in such a project. In my case I contributed to the e-book version that I am already reading since few days.
Well, a full big day, with plenty of curious people, many creators and new things to learn.