After 17 years working for a multinational and at 46 years old I've done a change of life, a big bet that I hope works well.
It did not happen overnight, well the exit yes obviously, but I had entrepreneurial desires that became more and more strong. At the beginning I was thinking about starting up something and it was like looking at a megaproject like buitnding a castle on my own, but then I got myself involved in the meetup groups related to startups in Barcelona (strongly recommended). Her ethe majority of people has around 25 to 33 years, so less risk averse that older people to say it nicely 😛
When there are no kids, no mortgage, etc everything gets easier: change of job, live with no income for a while, change of country, etc…
Kudos for the people who start businesses with kids, mortgages and other responsibilities on top!! it's not my case so risk is lower for me. The truth is that my mother, who was from the conservative generation with the concept of a lifetime job, would have had a heart attack!!
In these groups there is usually networking time and people talk about their projects and somehow you get caught with this atmosphere.
I got bored of the current format "I have an idea – build a team – pitch and more pitch – raise interest from an investor that wants to multiply its investment 10 times – …". The TV show "Silicon Valley" shows it very well, don't miss any opportunity to watch it!!
In my case I prefer businesses that generate revenue form the beginning and grow organically. No "change the world" and no "take the world"…
After this I moved into action and did some attempt as a side project with members of the 3D group. It did not work out but I saw it was feasible to build something. That was two years ago. It was the moment to build a DLP 3D printer, now there are even too many…
After this project and some other stuff related to 3D y came back to focus on my mountain activities, with always great satisfaction 😀
LynxCross gym
But the need stays there, and at the beginning of last year I joined Christian Ducos and Flor to open a gym. It was not an usual gym and it was more a proof of concept to see how the methodology worked. It's called LynxCross. Functional training where climbing walls is an important element in the high intensity circuits that we practice there. Wood walls and holds and climbing with socks, a new concept for all public that is working really well.
Christian already designed the activity like more than a year ago before we joined our forces, in an indoor boulder. And we have been defining the activity in this year and a half, since in fact we all came from rock climbing and we changed the concept to leave the climbing shoes out. You can check a good article in Catalan in TimeOut.
Christian is fully dedicated to the gym and we have been growing organically with the resources we had, so if it requires a certain amount of dedication form my side it is not full-time requirement and in fact I could not make a proper living form it now. Now that we have plans to open a second center we'll see….
Here you can see my crazy partner having fun in a moment he did not have clients months ago 😛
Every Friday at 19h30 there is a free Introduction session. It really works because people can try by themselves and make their minds if they like it or not. The usual client profile is a person that is bored already of doing workouts with machines or weights.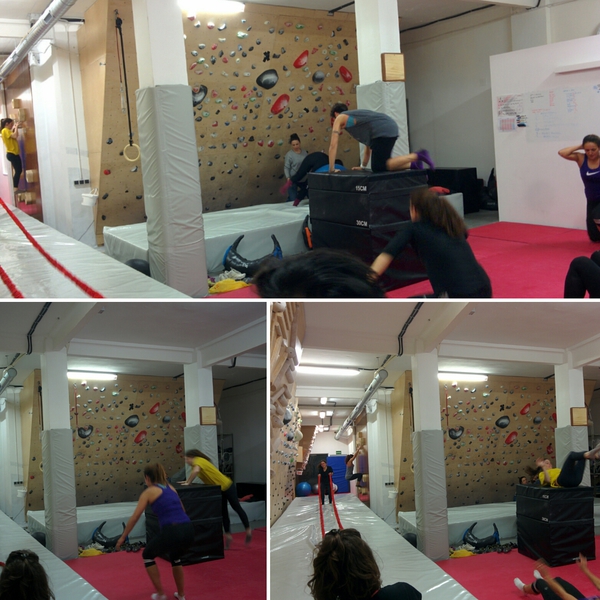 An example of an Intro session. Practicing a LynxCross circuit
To have a better idea of what we do the best is to look at our Instagram account. Plenty of creativity, signature of Christian!
Natural Robotics 3D printers
But I kept having interest on 3D printing, and so I joined Héctor Esteller to start a company to design and make 3D printers. It's not the best moment for consumer segment, the hype is over, but for professional it still works and will continue working.
I spoke with Héctor a year ago already but I had too many things starting at the same time so each one followed his path. We kept seeing each other frequently with the 3D Print Barcelona group, in fact we perform together the Introduction to 3D Printing talks with a very good connection, and finally we met again this year.
And we started Natural Robotics. With a filament 3D printer, the Delta Black, that Héctor had already developed and tested some time ago, and with good expectations with our SLS low cost prototype, the VIT. So I just jumped into this, plenty of stress for some months because I had to combine activities in both projects with my job in the multinational, and now fully dedicated to both.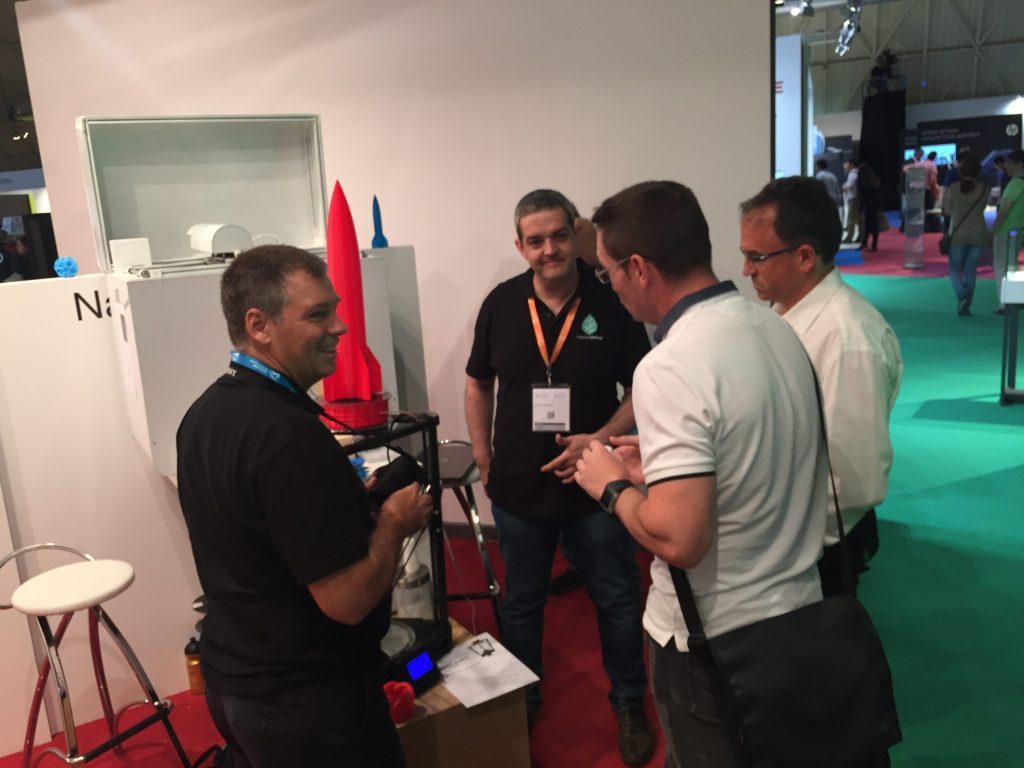 In In(3D)ustry fair in June in Barcelona
The thing I most enjoyed since the very first day of my new life, especially with the current hot weather, is to not have to ear a suit anymore. I love going with shorts and flip-flops 😀
How can go back now haha. I had already abandoned the tie a while ago at least…
And the other thing is not having an alarm in the morning. But here I have to find a balance because I am a night guy by nature. I was already going to sleep late when I had work schedule and now without time schedule pressure well…no comments…my body will adjust over time, I can pretend to change everything in a row!!
I will active and in Barcelona in August so if you have any topic you need to know, you want to know more about my experience because you are in a similar phase, etc… glad to talk over a beer.
Update march 2017
I left the Natural Robotics project completely, and have no link to them anymore.